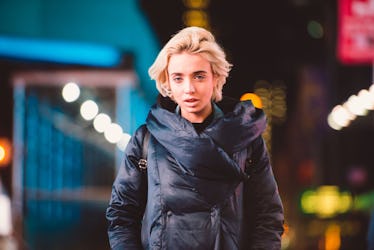 10 Women Reveal Why They're Anxious About Being Single & It's Kind Of Helpful To Hear
Lauren Naefe, Stocksy
If you're not currently in a long-term relationship or partaking in cuffing season, you might feel like you're living your best life. Beyond your family's annoying questions about your dating life during the holidays, you could be really feeling your singledom right now. While being single can make you feel totally #blessed, rolling solo may also come with some feelings of stress, anxiety, or other worrisome emotions. Does being single make you anxious? If so, you're not alone.
Whether you're single by choice or are actively dating and having a tough time locking down a keeper, being unattached can have its ups and downs. Even when everyone around you seems to be turning into a "we," being on your own comes with some sometimes-underrated benefits. For example, a you have more time to spend with your friends, you can flirt your heart out with people you meet, you can choose which Netflix show to watch before heading to bed — ahem, Gossip Girl for the third time — and you can pretty much be on your own schedule. But for some, the freedoms of being single also come with some apprehension and discontent.
Even if you're not coupled up, remember that you don't need an SO to be the best version of yourself. But if being single makes you feel a little uneasy or possibly even anxious, some solidarity might help. I spoke with ten women who anonymously revealed what makes them feel anxious about being single.