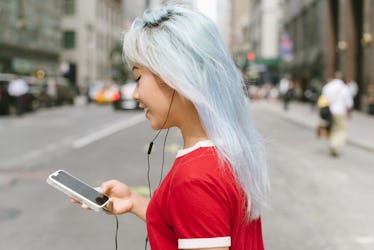 Forget About Your "10,000 Steps A Day" Because This Fitness Routine Is So Much Easier
Despite the fact that I truly do love to move and exercise, there are more days than I'd like to admit where I do not move much from the spot where I'm working. I'm usually particularly dismayed if, on those days, when I look at the little health app on my phone, it tells me that I've only walked, like, 4,000 steps, markedly under the often recommended 10,000 steps a day. Nevertheless, I do consider myself pretty healthy, so I can't help but wonder if walking 10,000 steps a day actually makes a difference in terms of improving or maintaining your overall physical health and well-being.
Well, it turns out, it might not be quite as crucial a number to hit as we might have thought. And if you think that 10,000 steps seems like kind of a random amount, your instincts aren't wrong. As BBC pointed out in their recent documentary on the matter, called The Truth About Getting Fit, the whole "10,000 steps a day" suggestion was originally born as a marketing campaign in Japan in the '60s by Dr. Yoshiro Hatano, who was developing an early pedometer at Kyushu University of Health and Welfare at the time.
The 10,000 steps campaign was simply developed as a way to encourage the Japanese public against a sedentary lifestyle, and it turns out, there may be a more effective strategy we could follow in our everyday routine.
BBC medical journalist Michael Mosley wanted to put the 10,000 steps suggestion to the test as part of the news outlet's fitness documentary, which aims to dispel common health myths and help people exercise in a way that is more effective and in line with scientific and medical research. Mosley teamed up with with Professor Rob Copeland from Sheffield Hallam University, and the the two went to a factory in Sheffield to recruit volunteers to participate in an experiment, all of whom were looking to get in better shape for different reasons. The experiment set out to compare and study the benefits of walking 10,000 steps a day versus something called "Active 10."
The Active 10 approach simply means fitting in three brisk, 10-minute walks per day.
The volunteers in the experiment wore monitors that tracked their activities and how "vigorously" they went about doing them. When the initial baseline data were tracked, Mosley and Copeland then split the group into two: Half of the group was asked to do 10,000 steps a day, and the other half was told to try the Active 10 approach, and these volunteers were also guided to make sure that their walks were vigorous enough to get their heart and breathing rate up to a point where they could still "talk but not sing," according to Copeland.
By the end, only two of the three volunteers in the group who were assigned to do 10,000 steps a day hit their assigned target, and both of those volunteers found the target to be a difficult one to achieve.
As for the Active 10 group? Together, they formed a friendly walking group that met up each day, and all of them found the task easy to accomplish.
But it's the health-related findings of the Active 10 group that are especially mind-blowing: When Copeland analyzed the data from the volunteers' monitors, he found that the group doing Active 10 walks "did 30 percent more moderate to vigorous physical activity" than the group who walked 10,000 steps a day — despite the fact that they technically moved for a shorter amount of time!
Copeland said that ultimately, the increase in heart rate is where the benefits of exercise really come in. Potentially, this means that doing an Active 10 routine is both easier, and more effective. Copeland said to the group of volunteers,
What we really wanted you to do was to get your heart beating faster. There's lots of evidence to suggest that by doing so you can lower your risk of diabetes, cardiovascular disease, and some cancers.
I don't know about you guys, but I find this very encouraging, especially as a New Yorker. Does this mean I'm getting enough exercise on days I don't work out, simply because I'm always running late, trying to catch subways?
Kind of a dream come true, amirite?