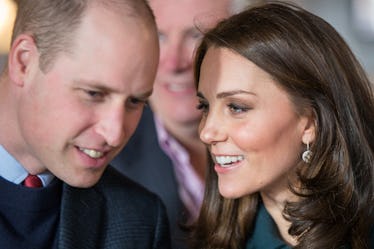 This Is Why Prince William & Kate Middleton Don't Have A Prenup
WPA Pool/Getty Images Entertainment/Getty Images
If you had to guess if Prince William and Kate Middleton signed a prenup before they walked down the aisle of Westminster Abbey, you'd probably say yes, right? After all, the royals are very wealthy, prominent, and have plenty to lose if love dies and they were to split up. So the question is, do Prince William and Kate Middleton have a prenup? After all, plenty of people with far less financial incentive sign one, because not only does it protect any assets they bring into the marriage, but if for some reason a couple decides to call it quits, the prenup will help the process go more smoothly — something that really matters when emotions are running high and feelings are hurt. Because, let's be honest, we're not always being our best selves while going through a breakup. (That can't just be me, right?) Also, we aren't even in the public eye with everyone weighing in with an opinion, adding insult to injury.
All that being said, the answer to whether or not this couple elected to sign a prenup is likely going to come as a surprise. That is, of course, unless you're already familiar with how other royal couples chose to handle the same decision.
In the lead-up to the couple's wedding back in 2011, there was a lot of speculation about whether William and Kate would get a prenup. After all, William's father Charles and his mother Diana did not have a prenup and, when they split up in 1996, Diana was awarded £17.5 million — Charles' entire personal fortune. But rather than serve as a cautionary tale, it seems that William decided to follow in his father's footsteps because, in May 2011, The Daily Mail confirmed that no "legally binding document was drawn up before the wedding." There was some speculation at the time that William had been advised (but refused) to sign one, but this was shot down, by a "well-placed source" to The Daily Mail. "For him to refuse, it would have had to have been suggested to him by someone and it was not," said the source. "There is no prenuptial agreement in place for this wedding."
As much as a romantic as I am, I can't help but think that choosing not to protect their assets is a risky decision. But, as it turns out, it's actually pretty common for royal couples to elect not to sign any prenuptial agreements. As royal expert Katie Nichol, author of Harry: Life, Loss, and Love explained to Town & Country, skipping the prenup is standard for the Royals. "I don't think members of the royal family sign prenuptial agreements," Nichol said. "It's commonplace with celebrity marriage, but this is not a celebrity marriage, it's a royal marriage."
While choosing not to sign a prenup may not be the most conscientious choice, I can't help but feel like it seems awfully romantic. It's clear that William was confident that he and Kate were going to stay together forever, and I sincerely hope they do. Now married for seven years with three gorgeous kiddos, they are one of the few real-life fairytale love stories. Here's to hoping they really do get their happily ever after — and never wish they'd signed on the dotted line before saying "I do."