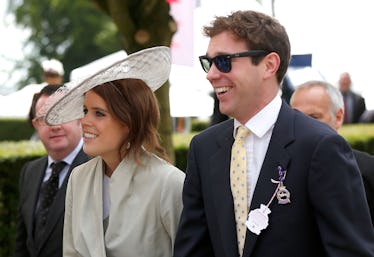 Princess Eugenie & Jack Brooksbank's Prenup Decision Is Honestly So Surprising
Tristan Fewings/Getty Images Entertainment/Getty Images
The upcoming royal wedding of Princess Eugenie and long-time boyfriend Jack Brooksbank has the whole world talking, and it's for good reason. Princess Eugenie and Brooksbank are fairly low key and lead relatively normal lives compared to their fellow royal family members, which makes their love story surprisingly relatable. However, because they're such a low-key couple, there are tons of unanswered questions about their Oct. 12 wedding. For instance, do Princess Eugenie and Jack Brooksbank have a prenup? It's not a totally off-base question, but it's also sort of complicated. The soon-to-be married couple has been together seven years, but with the royal family, nothing is off the table. (Except bright nail polish, of course.)
The thing is, the royal family is high-profile on a worldwide scale. They're basically like the Kardashians, but British and with crowns, titles, and dress codes. Marrying into the fam is a pretty big deal, and just like celebrities sign prenuptial arrangements, you might expect the royal family to follow suit. But surprisingly, that's not the case.
According to Katie Nicholl, royal expert and author of Harry: Life, Loss, and Love, the royal family doesn't really do prenups. "I don't think members of the royal family sign prenuptial agreements," Nicholl told Town & Country. "It's commonplace with celebrity marriage, but this is not a celebrity marriage, it's a royal marriage."
Yes, you read that right. While a royal wedding may seem a little more intense than a celebrity wedding, they typically don't require prenups. Of course, it's impossible to know whether Brooksbank will sign a prenup privately, but it's still unlikely. A prenup is typically drafted to protect the financial status of one partner in the event of a divorce, and the royal family's money belongs to the Queen. So basically, a prenup isn't necessary. Brooksbank isn't marrying the Queen, after all.
Now, this isn't to say that Princess Eugenie's wedding won't be a serious occasion. In fact, the 28-year-old and her future husband have been together since they met on a ski trip in 2010, according to Daily Mail, and even then, their friends could tell they were serious. "There was an immediate attraction and since that meeting, they have barely been apart," a source told Daily Mail. "Eugenie was studying at Newcastle when they met and Jack was working in London, but they made the relationship work. She is very uncomplicated. She's a doer, a worker, as is Jack. They are very suited."
Their Oct. 12 nuptials carry significantly lower stakes than when Prince William married Kate Middleton (since he's so close in line to the throne), and when Prince Harry married Meghan Markle this past May (since Brooksbank isn't a famous American celeb). But it's still a royal wedding, so surely we can expect the same type of beautiful grandeur we've seen in royal wedding's of the past. According to Harper's Bazaar UK, British network ITV will be broadcasting the wedding. Here's hoping an American network will pick it up so we can enjoy Princess Eugenie's big day stateside.
With no prenup in sight, the soon-to-be Mr. and Mrs. can just focus on each other and making their marriage work. These two certainly seem to have it all together, and hopefully their wedding will be the best day of their lives. They both deserve it, and they both deserve each other.
Check out the "Best of Elite Daily" stream in the Bustle App for more stories just like this!