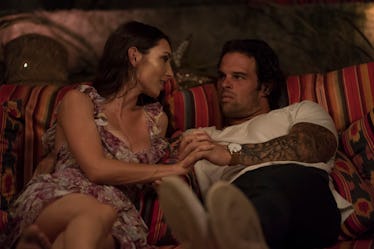 Bachelor Nation Has One Big Question About Kevin & Astrid's Relationship
ABC/Paul Hebert
Bachelor Nation is breathing a sigh of relief this morning. Kevin Wendt and Astrid Loch, who found love together on Bachelor in Paradise Season 5, are back on. The fan-fave couple broke things off prior to the fantasy dates during Monday night's heartbreaking episode when Kevin realized he couldn't commit to Astrid longterm. On Tuesday's reunion show, the pair admitted trust issues stemming from the blindsiding split lingered, but they still had feelings for one another. But do Kevin and Astrid live together now? Fans are hoping the reality TV sweethearts are going strong.
According to Astrid's interview with Chris Harrison, which aired on Sept. 11, Kevin reached out to her as soon as he was able to get their phone back.
"We care about each other but the trust is broken. It's weird — we've been in limbo in a sense," the 28-year-old explained. And when Kevin came out to join her in the hot seat, he clarified that he was freaked out by the suggestion of the fantasy suite back in Paradise since he had a complicated history with term. He even confessed he regretted spending the night with Ashley Iaconetti during February's Winter Games. But what's past is past. Kevin is now "hoping for the best" with Astrid and he's still "madly in love" with her.
The BIP Season 5 reunion was actually filmed back on Aug. 28, so it's been over two weeks since Astrid and Kevin sat down in front of a studio audience to give an update on their relationship status. Now they're taking to social media to share where they're at... and that place appears to be Canada. Kevin currently lives in Toronto, Ontario and Astrid is based in Florida. Maybe she's considering a move in the future? She and Kev posted the same cute photo of them on the morning of Wednesday, Sept. 12 and both of their captions both featured the Canadian flag emoji.
"I could get used to this place, eh," Astrid wrote.
Kevin also put up a photo of them shopping for groceries. Bachelor stars do regular errands too, y'all.
"Real life. Real people," Kevin's caption read.
Astrid was a guest on Sept. 10's episode of The Domenick Nati Show where she went into detail about her relationship status with Kevin:
We are dating, but I think we're trying to just stay for now and not kind of rush it. The process in Paradise definitely puts a lot of pressure on you a little bit, and it definitely gave him a little bit of cold feet. So we're just trying to date like normal people in the real world for a little bit.
She also revealed Kevin has no intention of leaving Canada so she would be the one to move if they were to take that next step.
"I'm originally from Germany so I've moved countries before. I would be the one to move for sure," Astrid added.
It looks like she's enjoying her time in Canada, so perhaps she and Kevin will make things official soon.