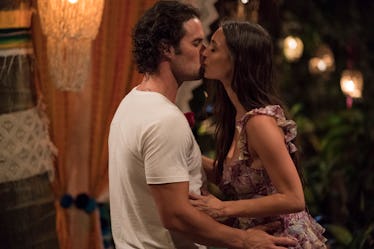 Kevin & Astrid Revealed Their Current Status On The 'Bachelor In Paradise' Reunion
ABC/Paul Hebert
Bachelor Nation's collective hearts were broken on Sept. 10's emotional episode of Bachelor in Paradise. The first part of the finale shook viewers to their core as they watched one of the most solid couples on the show (honestly, not just Season 5, but of all time) split up unexpectedly. In a blindsiding turn of events, Kevin told Astrid he wasn't 100 percent committed to her and they both left before the fantasy suite dates. So, how's the star-crossed pair doing these days? This Kevin and Astrid relationship update from the Paradise reunion shows they're working on mending what went down back in Mexico.
"I never thought I would even be in a situation where I would be even considering engagements," Astrid admitted on Monday's gut-wrenching installment of BIP. "I don't need to get engaged, but I feel like if he asked me... I wouldn't say no."
But what was supposed to be a romantic night away was cut short before it even began. Sitting on a day bed (where else?) Kevin told Astrid his true feelings — he just didn't know if he could move forward with her.
"I feel like we are miles ahead of everybody upstairs. Every person on this beach knows that when it comes to easiness of just hanging with someone," he said, revealing he felt like he was having a "mental breakdown" about the possibility of heading into the fantasy suite. What came next was a surprise to just about everyone.
Kevin knows the high stakes of the fantasy suite and the possibility of picking out a ring after the event appeared to freak him out immensely. After confessing to Astrid that he regretted spending the night with Ashley Iaconetti during Winter Games (they went on to date for a short period ater that evening), Kevin dropped a tearful bomb.
"There's things about me and you that are the best I've ever had and there are things about me and you together that I've masked," Kevin noted.
Uh, oh. That sounds like the beginning of a break up conversation... He went on:
I don't know if it's forever but I also don't want... why don't I know? Personality-wise we're perfect but lifestyle-wise I just I don't know. Like, I don't know. I think you are the brightest star I've ever met in so many ways but there's something missing.
Kevin attempted to further offer up an explanation by telling Astrid that he felt only "80 percent" sure about their relationship. Naturally, she walked away stunned. But that was then... and this is now. Well, a few weeks ago when the reunion special was filmed.
"He reached out to me as soon as he got his phone back," Astrid told Chris Harrison on Tuesday, Sept 11's show, adding that Bibiana has been her therapist through the whole breakup ordeal (shout out to Bibi!). Understandably, Astrid's still confused about why Kevin did what he did and she can't move on until she gets the clarification she needs — but they have spoken to each other.
"We care about each other but the trust is broken. It's weird — we've been in limbo in a sense," she went on.
When Kevin came out he offered up somewhat of an explanation, saying he was triggered by the concept of a "fantasy suite" considering its complex past role in his life. "I want to see where this fully goes. I'm hoping for the best," he said of their relationship status.
One thing's for sure: There are still feelings there.
"I'm definitely madly in love with her," Kevin said of Astrid, before she confessed she still loved him too.
In the words of Chris Harrison: "There is hope!"