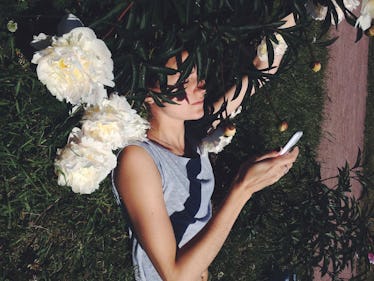 3 Warning Signs Your Texting Habits With Your SO Are Bordering On Unhealthy
Like all great things in life, the ability to keep in touch with our partners via text is a double-edged sword. On the one hand, texting is great. I mean, GIFs, Bitmojis, and emojis have basically given us an entirely new language to flirt with. But on the other hand, texting also has the potential to become an unhealthy crutch within the confines of a romantic relationship. Simply put, there's a fine line between texting normally and taking your texting to an unhealthy level. But, of course, wondering if you text your significant other normally isn't always an easy question to answer for yourself.
That's why I asked Dr. Gary Brown, a prominent couples therapist in Los Angeles, to share some warning signs that your texting habits might be veering in the direction of unhealthy. Now, to be clear, these signs don't mean that your relationship is necessarily unhealthy. No, instead, they're just warning signs that the way you and your partner text could potentially be leading to some difficult dynamics within your relationship.
Read along and really try to think honestly about whether or not any of these three warning signs seem to be applicable to the way texting plays out within your own relationship.