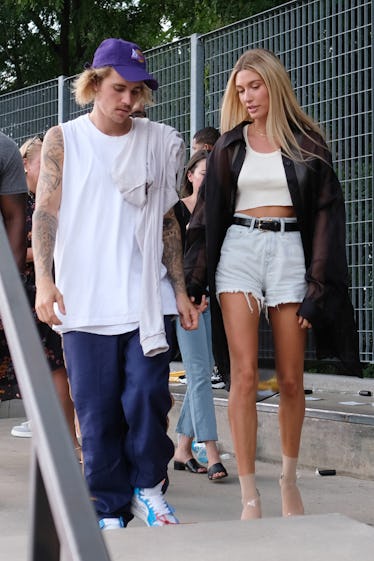 Here's How Hailey Baldwin's Parents Really Feel About Her Marrying Justin Bieber So Soon
Nicholas Hunt/Getty Images Entertainment/Getty Images
Getting engaged is a big commitment in anyone's life, and it signifies that you're ready to start building a life together with someone, which is equal parts amazing and terrifying. When I got engaged, my family was beyond elated, mainly because my then-fiancé (now husband) was a total catch (and still is! Love you, boo!). They knew that he was good for me, and was super happy to know that I was in good hands. But what about when it comes to celebrities getting engaged? Do they face the same situation as us regular humans, hoping that their family loves the person they got engaged to? Well, if you're Hailey Baldwin, apparently the answer is yes. So, do Hailey Baldwin's parents like Justin Bieber? The 21-year-old model recently spoke about the situation, and it's actually surprisingly adorable.
It was reported by TMZ that Justin Bieber and Hailey Baldwin reportedly went to get their marriage license on Thursday, Sept. 13, and had several eyewitnesses report that they were "inside the Marriage Bureau in NYC and Justin was emotional." Bieber was reportedly "crying and at one point said to his fiancee, 'I can't wait to marry you, baby.'" Elite Daily reached out to Bieber and Baldwin's teams for comment on the report, but did not hear back by the time of publication.
While that's all speculation, there's really no denying that the two, in fact, are going to be walking down the aisle at some point. While we don't have many details about the wedding, Baldwin's interview with The Cut did divulge some new information about how her family feels about her getting married so young.
She told the publication that, while being a young twenty-something preparing for marriage may seem a bit on the young side, it's "not uncommon" for members in her family to marry younger than most.
"My sister was 24 when she got married, and my parents also got married when they were young, too," she told The Cut. "I see no reason to wait. When you know it's right, it's right."
I mean clearly, Hailey Baldwin knows what's best for herself, so we can't really argue about that. And apparently, her parents are also in agreement.
"I said to them, 'You'd stop me if you didn't think this was the right decision, right? And they didn't," she said, reportedly laughing. "I think they love him more than me!"
It's really sweet that Baldwin's parents approve of Bieber for their daughter (and also kind of harsh that they might love him more than their own daughter, if I'm being honest), and it's a good thing, too, because it seems like the Baldwin/Bieber wedding will be all about their families.
"I just picture lights strung everywhere," Baldwin told The Cut, adding, "I think having it in the woods would be so beautiful ... My sister will be my bridesmaid. I was hers last year. And maybe Justin's little sister as a flower girl. Is 10 too old?"
10 is definitely not too old, Hailey. Actually, I think you can even have someone even older than that as a flower girl. She can be anyone, really. You know, like a friend, or an acquaintance, or even a writer for Elite Daily! The choice is totally yours, so, you know, choose wisely (FYI, I look really good in blush).