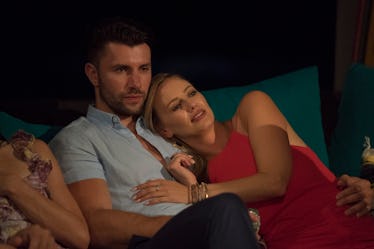 Bachelor Nation Is Rooting For Annaliese & Kamil, Here's What We Know About The Duo
ABC/Paul Hebert
Annaliese has had a rocky road so far on Bachelor in Paradise. The 33-year-old Bachelor alum from Arie's season failed to truly hit it off with any of the guys in a way that would allow her to breathe a sigh of relief about her future on the show. That is, until Kamil entered the picture. Now fans are wondering: Do Annaliese and Kamil get engaged on Bachelor in Paradise? The couple appears to be going strong at this stage in the game.
While neither Kamil or Annaliese have confirmed their post-filming relationship status, there is one thing that seems pretty certain: Annaliese is looking for true love. Showcasing her journey throughout the first six episodes has repeatedly made audiences aware that she's ready to settle down and find her person. Is Kamil that person?
Kamil Nicalek caught the attention of Bachelor Nation during his stint on Becca's season when his occupation was listed as "social media participant." Um, doesn't the majority of America have that job as well? I guess I'll be putting that on my resume since I have a Twitter account. Title aside, New Yorker Kamil is originally from Poland and is signed with Wilhelmina modeling agency. He clarified that he's actually in real estate and additionally works as a personal trainer. To be fair, his Instagram is stacked with pics both professional and amateur, so he technically does paticipate in social media quite a bit. Annaliese Puccini is a San Francisco-based event designer with an artsy creative side and a fear of bumper cars. According to Kamil's bio, he's terribly afraid of spiders — it looks like they could bond over their respective phobias.
While the down-to-earth blonde and the East Coast model don't appear entirely compatable at first glance, their Paradise chemistry is palpable. Plus, they both seem to be fond of fitness, travel, and selfies.
Kamil and Annaliese's first date on Monday night's episode was a complete success and came off mutually smitten. She gushed:
I wasn't really sure if Kamil and I would have a connection or if he was just a beautiful man that wasn't going to have anything else but we have so much in common. We both have had some bad experiences at carnivals and fairs...
By Tuesday's episode they quickly evolved into one of the so-called strongest duos going into the rose ceremony, as far as Annaliese was concerned. Many viewers are rooting for them to last knowing full well that they've only known each other for about 24 hours. Of course, their whirlwind romance has its share of skeptics too.
"There's a romance that is very real that doesn't go the way that I think it's going to go," bartender Wells recently dished to People about the show's surprising outcome. "I was shocked when the show ended."
Considering the show is well underway, it's seems like Annaliese and Kamil have the potential to prove onlookers who deem their relationship dubious wrong. Wells might just be referring to them.
"I have so much love to give and I just want somebody I can give that love to," Annaliese has said.
Hopefully she gets the chance to give that love to Kamil for a long time.