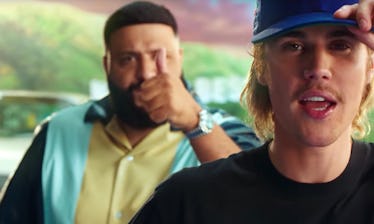 DJ Khaled's "No Brainer" Video Stars Justin Bieber & His Mustache, But Asahd Steals The Show
YouTube
If you've been really feeling Justin Bieber's disheveled vibe lately, then man, do I have a gift for you. The singer has collaborated with DJ Khaled, as well as Chance the Rapper and Quavo, for their newest song, "No Brainer," and, while it will undoubtedly be the song of the summer, that's not the reason why we're here. We're here because DJ Khaled's "No Brainer" video features colorful backdrops, DJ Khaled's adorable son, Asahd, and, most importantly, a whole lot of Justin Bieber's mustache. You're going to want to check it out — trust.
"No Brainer" is fresh off the press, dropping July 27, and is the first single from DJ Khaled's forthcoming album, Father of Asahd. We were anticipating the new song from the group of artists after DJ Khaled posted a hilarious skit on his Instagram, featuring little Asahd (voiced by Kevin Hart) arguing with his dad, ultimately demanding that Siri play "No Brainer." While we didn't get to hear the entire song from the Instagram clip, we at least got a small taste as to what exactly it would sound like.
DJ Khaled captioned the video by thanking everyone involved and giving fans the heads up as to when they could expect "No Brainer" to drop:
That boy @asahdkhaled growin' up too fast!! His price just went up! 📈📈Bless up @applemusic! 🙏🏾🙏🏾 #TheNegotiation#NoBrainer out 2morrow! Thank you @kevinhart4real directed by @amandlercreative direction by @thelarryjackson@wethebestmusic FATHER OF ASAHD 🙏🏽
So now that the new music is out, it's clearly a no-brainer (pun absolutely intended) that this song is going to go platinum. It's got a catchy beat, a bunch of seriously talented artists going back-and-forth on the track, and totally pointless, playful lyrics. A pretty reliable formula if you ask me. Part of the chorus goes:
You stick out of the crowd, baby, it's a no-brainer / It ain't that hard to choose / Him or me, be for real, baby, it's a no-brainer / You got your mind unloose / Go hard and watch the sun rise / One night'll change your whole life / Off top, drop-top, baby it's a no-brainer / Put 'em up if you with me
Are you snapping your fingers yet? No? Then perhaps I might interest you in some visuals.
Check out the "No Brainer" video for yourself and see what you think:
Now, let's unpack that whole thing, since there is a lot going on in those 4-plus minutes.
My first thought was, "Wow, Justin Bieber truly looks like an average man that I'd see at my local grocery store."
I don't necessarily hate it, but I felt as though there could have been a little more grooming involved. Look, I appreciate a dressed-down man. But there's dressed-down, and then there's this:
But I will say this: Bieber's slick dance moves make up for any misgivings about his wardrobe.
You're safe for now, Bieber.
My second thought was, "OMG, could Asahd get any cuter?!," and the answer is absolutely not.
This is a fun, upbeat, and light-hearted song, so naturally, throw a toddler into that video and you're going to get music video GOLD.
Enter Asahd, DJ Khaled's son, chilling with his dad and The Biebs on set. Honestly, this was the highlight of my week, and also made me sort of forget about my initial issues with Bieber, because having a kid on his lap made him look beyond attractive (???):
Bieber isn't really my ~type~, so this is a revelation for me. But this story isn't about my sexual preferences, so I'll keep things moving.
My final thought was, "Man, there is some blatant product placement going on," but I don't hate it, TBH.
I'm letting it be known to the universe that I hate product placement. Like, it makes me angrier than it should, and I should probably reel in all of my hatred, but I haven't mastered the art of that just yet. Considering the entire video is essentially just one big plug for products, my blood pressure SHOULD have been going through the roof, but it didn't.
Why?
Because I think it was so intentional, so purposefully done that it's kind of fun, in a weird and kitschy way. It's almost like you're watching a video, and the product is *so* obviously being advertised that it's basically winking at you. And you wink back, because it's amusing!
So what if the audience clearly knows that brands are being intentionally placed in the video?
We're talking products like Bumbu rum...
Ciroc vodka...
Luc Belaire sparkling wine...
And last (but certainly not least), online fashion store Fashion Nova:
Because honestly, it's all part of a video that shows a uniquely creative spin on how a traditional video is shot. So if you're asking me whether I like it or not — c'mon, it's a no-brainer.