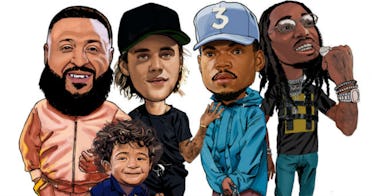 Justin Bieber & DJ Khaled Just Dropped A New Song & It's So Gonna Be The Song Of The Summer
Instagram/DJKhaled; Epic; Mwanel "1-L" Pierre-Louis
So many different artists are vying for their new tracks to be the song of the summer. But it's looking like Justin Bieber and DJ Khaled have this one in the bag. The two have collaborated with Chance the Rapper and Quavo on a song that's bound to be playing on everyone's summer playlists on loop soon. Justin Bieber and DJ Khaled's new song "No Brainer" literally just dropped and, already, fans are going wild over it.
Both DJ Khaled and Bieber made reference to the new song on their respective Instagram accounts. DJ Khaled posted a hilarious skit on Thursday, July 26, in anticipation for the new single.
The skit features DJ Khaled squabbling with his toddler-aged son Asahd with voiceover contributions from Kevin Hart. The skit ends with Asahd telling Siri to play "No Brainer", giving fans a chance to hear just a tiny bit of the song, which you can now listen to a preview of below:
You can listen to the whole song on Apple Music, but it doesn't appear to be available on Spotify in the U.S. just yet.
In the caption for DJ Khaled's video, he shouted out everyone involved with the new track.
"That boy @asahdkhaled growin' up too fast!! His price just went up!" he wrote. "Bless up @applemusic! 🙏🏾🙏🏾 #TheNegotiation #NoBrainer out 2morrow! Thank you @kevinhart4real directed by @amandler creative direction by @thelarryjackson @wethebestmusic FATHER OF ASAHD 🙏🏽"
Bieber, on the other hand, simply posted a neat illustration of himself, DJ Khaled, Asahd, Chance the Rapper, and Quavo.
Here's a look at the illustration Bieber posted:
When DJ Khaled posted this pic on his Instagram account, he noted that this was the official artwork for the single. The artist behind it is Mwanel "1-L" Pierre-Louis.
DJ Khaled actually posted an animated version of the illustration, which is pretty awesome:
And then, of course, there's DJ Khaled's hilarious video:
So, this is one highly anticipated track and now that it's here, it's definitely on everyone's radar.
This is the second collaboration for all the artists involved on this track. Their first collaboration was on "I'm the One" which was released back in 2017 and it was a massive hit. Actually, some fans expressed fear that DJ Khaled, Bieber, Chance, and Quavo couldn't possibly live up to their last smash hit "No Brainer," but by the looks of fan reactions on Twitter, it seems everyone's love for "No Brainer" is a no-brainer.
Here's what people are saying about it so far:
And with lyrics like these, how could anyone not put this track on repeat?
You stick out of the crowd, baby, it's a no-brainer / It ain't that hard to choose / Him or me, be for real, baby, it's a no-brainer / You got your mind unloose / Go hard and watch the sun rise / One night'll change your whole life / Off top, drop-top, baby it's a no-brainer / Put 'em up if you with me
I'd like DJ Khaled to guarantee we get a track from this group every summer, stat.