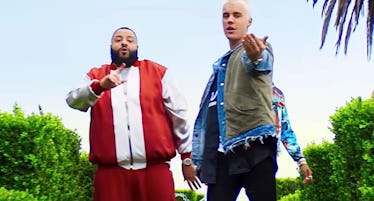 DJ Khaled Teased His New Song With Justin Bieber & It's Produced By Asahd, So I'm Pumped
YouTube
Remember last summer when DJ Khaled's hit tune "I'm The One" — featuring Quavo, Justin Bieber, Chance The Rapper, and Lil Wayne — was pretty much the song of summer? Yeah, well, get ready to celebrate, you guys, because it looks like it might just happen again. During his appearance on Conan on July 10, the recording mogul/producer announced another collab with the Biebs. That's right, fam: DK Khaled and Justin Bieber's new song is dropping soon and OMG I am so pumped!
"This is top secret," Khaled told the red-headed talk show host. "I got a song coming out with Justin Bieber and some more of my great friends on the record. I want it to be a surprise, but it's going to be one of the biggest anthems. And my son is the executive producer. And I can tell you this: there's a video coming with it, too."
YASSSS. I just love a good summer anthem, don't you? Although, DJ Khaled's son, Asahd, is just 20 months old, so hopefully it's not about, like, Goldfish crackers or whatever.
"Me and him was going back and forth negotiating with each other," Khaled told Conan. "But it's all gonna come to light soon. You're gonna see all this greatness."
Can't wait!
Oh, and get this: Khaled is also rolling out a line of soap. As in... the stuff you use in the shower to wash your face. "Imma make my own soap," he said on the show. "I know a lot about it. I know what I like, and what I want to smell like. So I'm here to announce today — and this is crazy that we're talking about this — I'm going to make my own soap. Let me ask the fans: if you go to the store and you see another soap and my soap, which one are you going to get?"
He's def got a point there, right Justin?
Maybe the "Sorry" singer will give out samples when he ties the knot with his fiancé Hailey Baldwin. I mean, you knew he got engaged, right? TMZ broke the news that the Biebs was officially off the market on July 8, after he proposed to Baldwin while they vacationed in the Bahamas. Bieber eventually confirmed the rumors with a post on Instagram that featured a pic of the model sitting on his lap and kissing his cheek. He captioned the pic,
Was gonna wait a while to say anything but word travels fast. Listen plain and simple Hailey I am soooo in love with everything about you! So committed to spending my life getting to know every single part of you loving you patiently and kindLY. My heart is COMPLETELY and FULLY YOURS and I will ALWAYS put you first! You are the love of my life Hailey Baldwin and I wouldn't want to spend it with anybody else. You make me so much better and we compliment eachother so well!! Can't wait for the best season of life yet!. It's funny because now with you everything seems to make sense! Gods timing really is literally perfect, we got engaged on the seventh day of the seventh month, the number seven is the number of spiritual perfection, it's true GOOGLE IT! Isn't that nuts? By the way I didn't plan that, anyways My goodness does feel good to have our future secured! WERE GONNA BE BETTER AT 70 BABY HERE WE GO!"
So freaking cute! Congrats to the happy couple... and prayers that this new Khaled/Bieber collab turns out to be the hot Summer 2018 anthem we all need.