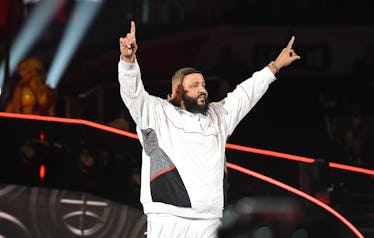 DJ Khaled's Net Worth Proves He's Built A Serious Empire
Kevork Djansezian/Getty Images Sport/Getty Images
You know him, you love him, and you definitely can't get away from him. Somehow, DJ Khaled has worked his way into your life, penetrated your brain, and you've definitely found yourself humming his tunes as you drift to off to sleep or wake up in the morning. It's hard to remember a time when he wasn't music's most famous DJ, and it's safe to say this man has created a small empire for himself and his family. What exactly is DJ Khaled's net worth? Oh, let's just say more than a one-hit wonder.
To begin, it'd be wrong to simply sum Khaled up as a DJ. Yes, he does that, but he's also a record producer, record label executive, radio host, and author. He's also really good at shouting his own name. (Listen carefully, I bet you can hear it in your brain right now.) He's also president of the Def Jam South record label and CEO/Founder of "We the Best Music Group." (Listen carefully again. Can you hear him shouting "We the best"?)
While he did not make Wealthy Gorilla's list of the top 20 richest DJ's in the world, he's still... like... rich. The celebrity net worth site puts Khaled at a net worth of $20 million going into 2018, which is a big jump from where they had him in 2013 with only $3 million. Even though Khaled is older than his millennial fans, (he's 42 years old), he still recently soared to the top of our social media feeds and won himself the 2016 Snapchatter of the Year award at the Shorty Awards.
Life, man.
Thanks to Khaled's numerous collaborations and endless hustle, the money has rolled in and so have the accolades. In 2017, Khaled let CNBC in on some of things he attributes his success to. He said, "Being authentic always wins. When people see somebody that is just real, they love it. It ain't no act. It ain't no fake."
This is the rule he follows when it comes to his own social media. Fans love his sense of humor and genuine enthusiasm for all things in life, from attending huge celebrity parties to eating a bowl of cereal. For Khaled, he uses all of his social media accounts to share the same content, even if he has rollover followers. In fact, Khaled thinks a collaboration across his platforms would be awesome.
He told CNBC,
I think it would be genius if the CEOs got together. I know everybody's competitive, and everybody getting their money and doing what they have to do, but if they got together and made maybe a switch where we didn't have to rip stuff off and put it and post it and find a way to break down the pie, (it would be great).
Khaled's latest and greatest achievement is his firstborn son, Asahd. According to the finance site Gobankingrates.com, Khaled spent six figures on his son's first birthday party, which he hosted at a high-end nightclub in Miami. Obviously, his friend Sean "Diddy" Combs helped co-host the big night.
Whatever Khaled's doing in his career, he's obviously doing it right. This year, he is nominated for five iHeart Radio Awards and co-hosting the event with supermodel Hailey Baldwin.
On the event, Khaled said in a press release,
It has been an extraordinary year in music and I couldn't be more excited than to be celebrating these amazing artists with all of their fans nationwide.
DJ KHALEDDDDD! YOU DA BEST!
Check out the entire Gen Why series and other videos on Facebook and the Bustle app across Apple TV, Roku, and Amazon Fire TV.