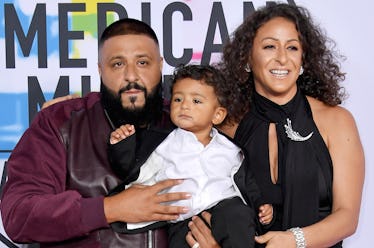 DJ Khaled & His Wife Have Been Together For So Long & It's Honestly Impressive
DJ Khaled is known for always bringing his son, Asahd, on stage with him at award shows and his own shows. But we don't see Khaled's wife as much as we do his baby boy. So who is DJ Khaled's wife? Her name is Nicole Tuck, and she and Khaled have been together for 11 years. Eleven. Years. Their son was born Oct. 23, 2016, putting him at a little over 1 year old, and his full name is actually Asahd Tuck Khaled, so he has both him mom and dad's name. DJ Khaled's music career has become part of Tuck's career as well, as she is reportedly an unofficial manager for her husband and helps run the business side of things. She also used to run her own clothing line called ABU Apparel (ABU stands for Always Be U), but it has since stopped production.
Tuck, according to her LinkedIn, got a BFA from Marymount Manhattan College and graduated in 2003. She then got her masters in education from Fordham University and graduated in 2005. Now, she spends her time helping manage her husband's career as a music producer and making appearances on runways, red carpets, and more with her family.
Just look how adorable the Khaled/Tuck family is!
Here's DJ Khaled, Asahd Tuck Khaled, and Nicole Tuck werkin' the runway at the 2018 Rookie USA show in Los Angeles on Feb. 15.
This family is seriously the cutest.
Khaled and Tuck have been together for 11 years, but they didn't get engaged until just before their son was born in 2016. They were still engaged when baby Asahd was born on Oct. 23, 2016, and DJ Khaled literally documented the entire birth on his Snapchat because of course he did.
Khaled posted this photo of him kissing Tuck's baby bump the day she went into labor.
He captioned the sweet post,
Bless up fan luv the dr. said my queens water Broke .. It's go time ! All praise to the most high fan luv I'll keep you posted !! I have to be honest I'm so excited and my nerves on another level smh .. I'm focused thoe I LOVE YOU SO MUCH SON
Throughout the birth, he posted videos and pictures of him and Tuck on his Snapchat for the whole world to see.
Literally, bless this woman for being cool with Khaled Snapchatting the birth of their son.
About a month after Asahd was born, Tuck posted the sweetest photo of Khaled and their son sleeping.
She captioned the post, "My two boys sleeping @djkhaled #babyasahd." Outside of their Instagram posts and Snapchat stories, Khaled and Tuck don't talk about their relationship too often. Of course, Khaled is known for sharing lots about his personal life, but his marriage with Tuck is one thing we don't hear a lot of specifics about. One thing is clear, though, they absolutely adore their son.
Fans were a bit confused in 2013, however, when DJ Khaled proposed to Nicki Minaj.
Khaled filmed what seemed like a legit proposal to Nicki Minaj with MTV in 2013. Although Minaj said it was clearly a joke and no one should take it seriously because they're just good friends, fans were still wondering why the video was made when Khaled was in a relationship with Tuck. Minaj assured everyone that the video was just a joke, though. In the video, Khaled said, "I'm gonna be honest with you, I want to marry you. I'm here today at MTV. Nicki Minaj, will you marry me?" He continued in the most DJ Khaled way possible, "We got the same symptoms, we both suffering from success. You out there touring, you out there hustling, you out there making music, you out there winning. I understand. That's why I feel like you need a man like me in your life."
Nicki Minaj's response to DJ Khaled's proposal made it clear the video was a joke and aimed to promote their song "I Wanna Be With You." She told Funkmaster Flex back in 2013,
Nobody in my real life took it seriously. Everybody just hit me like, 'LOL. Yo, Khaled is crazy.' Khaled is my brother and Khaled was not serious with that damn proposal, ya'll… Please let it go. He was kidding. He's not attracted to me, he doesn't like me. We're brother and sister.
So yeah, there's no competition to worry about here. DJ Khaled and Nicole Tuck are very much together, and after 11 years together, it looks like they're going to stay that way.