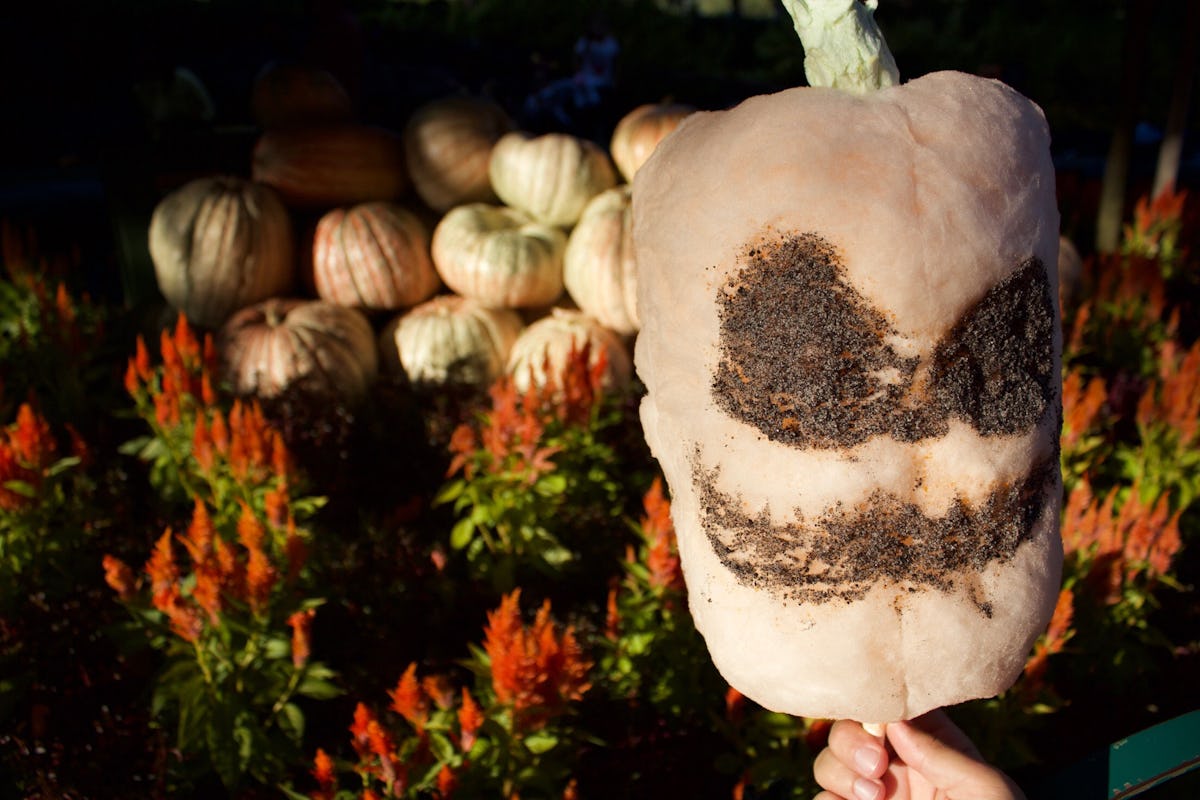 Disneyland Is Selling Spooky Cotton Candy With Jack Skellington's Face On It
Courtesy of Disney
In case you haven't noticed, things are getting pretty spooky at Disney theme parks. Between Halloween events and festive snacks, Disneyland and Disney World are *the* places to be in October. However, the latest snack being served in Disney's Anaheim, California location will send a shiver down your spine. I'm talking about Disney's Jack Skellington Cotton Candy, which is currently being sold in Disneyland. The holiday delicacy will put you in the Halloween spirit and make you want to watch The Nightmare Before Christmas on repeat.
For reference, Jack Skellington is the main character in The Nightmare Before Christmas, which is a spooky film that was released in '93 (what's up, '90s kids?!). Folks at Disneyland decided to draw his face onto orange cotton candy in honor of Halloween, and the result is the "Jack-O'-Lantern Cotton Candy," a sugary snack that you don't want to miss. Not only does it look delicious, but it'll also add a festive orange-and-black flair to your Instagram grid just in time for the October holiday. Between the cotton candy's pumpkin appearance, green stem, and skeleton face, it's one of the most epic Halloween treats I've seen yet.
TBH, it's just as cute as it is scary. I mean, look at those features!
Speaking of its face, you might be wondering what the blackish features are made of. According to Disney, the pumpkin's face is made from Oreo sugar — but two customers tasted two different things. In a tweet about the treat, Twitter user KTtheDisneyBear said that Jack's face is made of Oreo cookie dust, which sounds like an epic dessert to me. (Can you imagine the combination of cotton candy and Oreos?! YUM.) However, Instagram user WeKnowDisney tells Elite Daily that the skeleton face is made with black sugar.
The WeKnowDisney Instagram account also tells Elite Daily that the Jack-O'-Lantern Cotton Candy doesn't actually taste like pumpkins. They tell us that it was "traditional sweet cotton candy colored orange and green," which is totally fine with me. But according to Disney, the treat actually tastes like vanilla and has a green apple-flavored stem. (It still sounds delicious.)
Now, I'm sure you have one more question on your mind: Where the heck can you buy the Jack-O'-Lantern Cotton Candy? Apparently, you'll have to travel to Disneyland for a bite. WeKnowDisney tells Elite Daily that they found the spooky treat at the Cotton Candy Creations cart in Downtown Disney. Elite Daily reached out to Disney to inquire about the treat's price, and the company says it's $10. So, if you have plans on romping around Disneyland in October, make sure you give the cart a visit.
If you're craving more Halloween Disney snacks, you can check out the Candy Corn Milkshake at Disney World. Sure, there's no pumpkin theme to this one — but it'll still put you in the spooky spirit. This candy corn-flavored treat is a part of Mickey's Not-So-Scary Halloween Party, and will be available in Disney World until Oct. 31.
Whether you're in California enjoying Disneyland or in Florida having fun in Disney World, there's sure to be a Halloween treat for you.