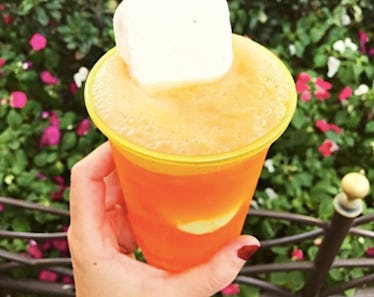 Disneyland Is Selling "Hard" Ice Cream Floats & They Sound Magical
There's nothing better than a refreshing ice cream float in the middle of July... especially when it's boozy. Believe it or not, adults exploring Disneyland can sip on a sweet treat that combines ice cream with alcohol. I'm not kidding: Disneyland is selling Hard Floats, and they sound magical. As someone who grew up devouring root beer floats whenever I could, I am super jealous of anyone with a Hard Float in their hands. Once I tell you a little bit more about the dessert, you'll be just as jealous.
According to Pop Sugar, Hard Floats are available in Disney's California Adventure at Clarabelle's Hand-Scooped Ice Cream. (Yes, this means you should plan your cross-country road trip immediately.) Based off Clarabelle's menu, the boozy beverage is made with an Ice Cream Bar of your choice served in "Dark Beer" or an "Alcoholic Hard Soda." One Instagram user shared the alcohol choices, and according to them, customers can choose from Guinness Extra Stout, Henry's Hard Soda, or Coney Island Hard Root Beer. Again, I'd be a happy camper with a large float made with vanilla ice cream and Coney Island Hard Root Beer. However, all of the choices sound delicious.
Since the Hard Floats served at Clarabelle's are indeed alcoholic, you must be over 21 years old to order one. Each float will cost you $10.49, which is a pretty great price for what you're getting. TBH, I think an ice cream pop dipped in booze is priceless — especially when you're drinking it in Disneyland.
Apparently, Instagram users who have already tried the drink agree. One Clarabelle's customer said the orange soda option (Henry's Hard Soda) is "yummy," and that the floats are a "great way to cool off this summer." I couldn't agree more.
Not only do the floats taste good, but they're also super easy to eat. You won't need to worry about walking around the park leaving a trail of ice cream drops behind you, because everything is contained in one sweet cup of boozy deliciousness. Grab a straw, and go.
Again, if you want to try a Hard Float, you must travel to Disney's California Adventure and stop at Clarabelle's Hand-Scooped Ice Cream on Buena Vista Street. I'm sure it'll be worth the trip.
For those of you on the East Coast with no plans of traveling to California, I have good news. You can also indulge in a boozy dessert, but it's not a Hard Float. Instead, it's a boozy beignet — and it's the pastry of your dreams. That's right: Boozy Baton Rouge Beignets are available in Orlando, Florida at the Scat Cat's Club in the Port Orleans Resort. The resort is located in the French Quarter of Disney World, so its easy to assume the pastries are life-changing.
As you can see, each Boozy Baton Rouge Beignet has a pipette filled with alcohol protruding from the dough. The pipettes are filled with Rumchata, Baileys, or Kahlua, and they add a boozy twist to the pastry. In a perfect world, I would try all three — but apparently, you can only choose one alcohol type per order.
Depending on which coast you're on, you'll have access to boozy Disney treats. Whether you're sipping on a Hard Float or nibbling on an alcohol-infused beignet, drink (and eat) responsibly.