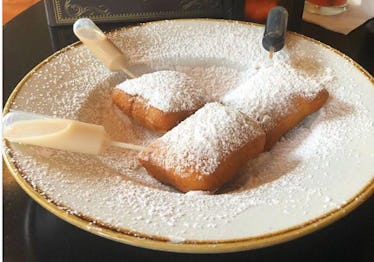 You Can Get Boozy Beignets In Disney World & I Guess Dreams Really Do Come True
If you're a hardcore Disney fan (like me), you've probably noticed that Disney Parks have seriously upped their food game within the past couple of years. Back in October 2017, they served an entire menu of spooky Halloween-themed cocktails. Earlier in spring 2018, they presented us with Pineapple Churros — and just last week, they started serving the mystical Mickey Unicorn Cupcakes. Their latest innovation, however, might be their greatest yet. If you're down to try something sweet, here's where to get boozy Baton Rouge Beignets in Disney. They sound like everything I could ever want.
You guys, it's official: I'm drunk in love with Disney's new boozy beignets. According to Disney Food Blog, a single $8 order comes with three classic beignets, which are served with a 21-and-over twist. Each beignet is hollowed out, and comes with its own individual pipettes that's filled with your choice of Baileys, Kahlua, or Rumchata. The order sounds straight-up delicious, but unfortunately, you'll only be able to find it in one very specific location known as the Scat Cat's Club. It's the only indoor lounge in the Port Orleans Resort, which is in the French Quarter of Disney World in Orlando, Florida. I never thought I'd say this, but Florida, here I come... forever.
Before I tell you more about these delectable beauties, I have a request. Let's pause and take in the glory and beauty of these ever-amazing Baton Rouge Beignets. The powdered sugar looks like the saccharine treat I need in my life (and I know for a fact it's going to coat my mouth, face, and clothing). The beignets themselves look light, fluffy, and pillowy. And, most importantly, each of their pipettes are filled to the brim with oozy, boozy goodness, all ready for infusion. They look irresistible, and I seriously can't hold back any longer. I'm heading to the JFK airport as we speak.
Seriously. Can you say... yum?
There's one downside to these magical gifts from the heavens above, so prepare yourself. According to Disney Food Blog, guests are only allowed to choose one type of alcoholic filling per order. I know, I know — it's kind of a bummer. I was totally planning on trying all three. On the bright side, though, this can be my excuse to get three orders.
The part I'm most excited about, on the other hand, is the fact that guests get to infuse their alcohol of choice into each beignet on their own. Yep, you heard that correctly. By doing so, customers' beignets won't get soggy, according to Disney Food Blog. You'll legitimately feel like a mad scientist, and your beignets will taste better than ever.
It looks like Disney World is really on a beignet kick, because recently, they also started serving Mickey-shaped beignets. Three of these (non-alcoholic) beignets go for a mere $4, and they come with the option to pay extra for dipping sauces. If you're really feeling that Florida heat, though, you can order a Mickey-shaped beignet sundae for only $2 extra. A Mickey-shaped beignet sundae includes three beignets, which are topped with a scoop of ice cream, whipped cream, and your sauce of choice. It sounds freaking awesome.
Beignets are great, everyone knows that. In fact, they pretty much make the world go 'round. But what could be better than boozy beignets? Or boozy anything, for that matter? If everything in life could come with a tiny pipette filled with booze, that would be unreal. For now, though, we'll just stick to the boozy beignets. While I wait to get my hands on these, I'll just be here, wishing upon a star for boozy beignets.