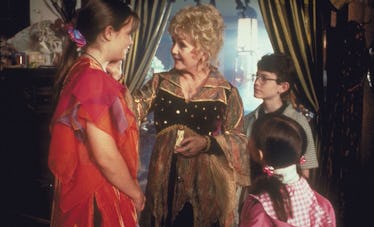 Disney Channel Is Live-Streaming All 4 'Halloweentown' Movies In A YouTube Marathon
Disney Channel
Disney Channel is making it easier than ever for fans to spend their Halloween with the Cromwell witches. The network's franchise of Halloweentown movies has become a seasonal staple each year, and this year you do not even have to check when the movies will be airing thanks to a continuous YouTube live-stream going on all day. Disney Channel's Halloweentown marathon on YouTube is the perfect way to spend your Halloween.
Over on Disney Channel's YouTube channel, the network is currently live-streaming a loop of all four Halloweentown movies without breaks. That means you can just jump in whenever you have some free time to watch. Of course, since the movies are streaming live, you cannot start them from the beginning or choose which of the four movies you want to watch — but Halloweentown fans have probably seen these movies enough to know what is going on at any given moment in the saga.
According to the live-stream's description, Disney Channel's YouTube account has kept this continuous Halloweentown loop going 24/7 throughout all of October, meaning that Halloween is the last day for fans to take advantage of it. Check out the live-stream link below to jump into the Halloweentown magic:
Halloweentown and its sequel comprise some of Disney Channel's most beloved original Halloween movies, and for kids that grew up with them, the films have become something of an annual tradition. The first movie, released in 1998, introduces protagonist Marnie Piper (Kimberly J. Brown) to the magical, monster-filled realm of Halloweentown, a parallel dimension that is only accessible on Halloween. She is guided by her grandmother Aggie Cromwell (Debbie Reynolds), who reveals herself to be a witch and tells Marnie that she too is a witch.
That original movie spawned three sequels: Halloweentown II: Kalabar's Revenge in 2001, Halloweentown High in 2004, and Return to Halloweentown in 2006. The fourth and final installment is infamous among the movie's fans for the seemingly inexplicable decision to recast the lead role of Marnie Piper. Instead of Kimberly J. Brown portraying Marnie as she had done in the first three films, Sara Paxton stepped in to take over the role.
Even though it has been two decades since the first movie was released, Halloweentown is just as beloved by fans today as it was when Disney Channel first aired it. The cast still gets together in some form or another for reunions and events each year around Halloween. Earlier this October, Kimberly J. Brown reunited with her on-screen mother Judith Hoag (Gwen), her siblings Joey Zimmerman (Dylan) and Emily Roeske (Sophie), and the first film's antagonist Robin Thomas (Kalabar). Brown wrote that it was the first time that group had all been together since Halloweentown was released in 1998.
And now you can jump right into Halloweentown whenever you want this Halloween by just opening YouTube. The Disney Channel 24-hour stream of the Halloweentown movies will end once November begins, though, so be sure to make the most of it right now.