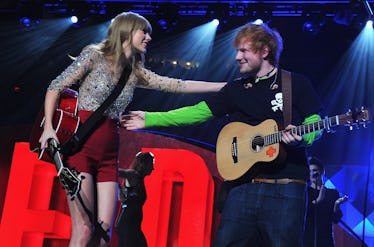 Taylor Swift's Fans Think This One Line In "Dress" Proves It's Actually About Ed Sheeran
Theo Wargo/Getty Images Entertainment/Getty Images
Reputation has brought up a lot of surprising questions for fans. The songs about Taylor Swift's exes, doomed romances, and torrid affairs have people digging so deep for answers. One surprising relationship that fans have been connecting the dots to is between Swift and Ed Sheeran. A few lyrics in Swift's sexy love song "Dress" have fans asking, "Did Taylor Swift and Ed Sheeran date?"
There's a few lines in "Dress" that majorly point to the "Thinking Out Loud" singer. In fact, Swift even seems to reference one of Sheeran's most famous songs, "Shape Of You," in her romantic track. The lyrics to "Dress" begin,
Our secret moments
In your crowded room
They've got no idea
About me and you
There is an indentation
In the shape of you
Made your mark on me
A golden tattoo
I honestly didn't realize the "Shape Of You" reference until seeing the lyrics in print. Swifty doesn't do anything by accident — her lyrics are always extremely thought out. Could this be a callout to Sheeran? Maybe so.
The lyrics "a golden tattoo" are another indication that the song could be about Sheeran. In August of 2015, Sheeran shared a picture of a giant lion tattoo on his chest. It's gigantic, detailed, and golden in color. Hmmm... suspect AF.
Although the lyrics to "Dress" are super sultry (who knew Swift had that in her?), certain lines of the song refer to someone who Swift knows in a very intimate way.
Even in my worst times, you could see the best of me
Flash back to my mistakes
My rebounds, my earthquakes
Even in my worst light, you saw the truth in me
And I woke up just in time
Now I wake up by your side
My one and only, my lifeline
Swift and Sheeran have known each other for a very long time. The two first collaborated on the song "Everything Has Changed" off the 2013 album Red. Since then, the two have remained very close, and even teamed up for the song "End Game" on Reputation.
This means Sheeran would have witnessed all of Swift's hiccups and reputation-ruining moments. Whoever "Dress" is about really made an impression on Swift.
Inescapable
I'm not even going to try
And if I get burned, at least we were electrified
I'm spilling wine in the bathtub
You kiss my face and we're both drunk
Everyone thinks that they know us
But they know nothing about
So saucy. Some fans are here for the idea of Swift and Sheeran having a romantic relationship.
Other people could not disagree more.
Whether it's about Sheeran or not, there's no denying that the two are extremely close friends and huge fans of each other. Sheeran was one of the first people to listen to Reputation before it's release and gave it a raving review.
When Sheeran was directly asked about Swift's album on the radio show Capital Breakfast, he said,
Yeah, I think the songs are great, I think the visuals, she's really putting everything into the visuals as well, the visuals are really impressive. I think people will like the album!
I love the support between friends. Obviously, Swift's album turned out to be a banger, so Sheeran did not lead us wrong. He's an amazing artist himself and has released a few of my all-time favorite songs, so I basically always trust his musical opinion.
"Dress" has been one of the most talked-about tracks — probably because it's a total bop. Whether it's about Ed Sheeran, Karlie Kloss, Joe Alwyn, or anyone in-between, Swift has definitely made an unforgettable anthem. More power to you, Tay.
Check out the entire Gen Why series and other videos on Facebook and the Bustle app across Apple TV, Roku, and Amazon Fire TV.