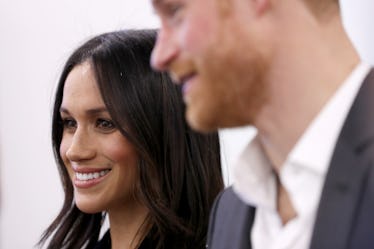 This Meghan Markle & Prince Harry Move Hints They're Really In It For The Long Run
Chris Jackson/Getty Images Entertainment/Getty Images
Meghan Markle and Prince Harry's romance is one of my favorite love stories. Just seeing the way she looks at him, or even watching her grow so close to her soon-to-be sister-in-law Kate Middleton in such a short amount of time, makes me smile inside. And who could forget about Prince Harry's admirable gestures toward his fiancée, like when he took her to see Hamilton for Valentine's Day? (*swoons*) TBH, they just seem like they're meant for each other and are gonna be together forever. But as the date of the royal couple's wedding date grows closer, many of us onlookers have wondered, did Meghan Markle and Prince Harry sign a prenup? After all, prenups are a great way to protect one's assets in case a marriage ever goes sour, and in the royal couple's case, millions of dollars would reportedly be at risk if they were to ever part ways. But according to a new report, Prince Harry rejected a prenup, so it looks like he's in it to win it.
According to a March 16 report from The Daily Mail, a source told the site that Prince Harry is confident that he'll have a lasting marriage and, therefore, doesn't feel the need to have a prenup. The source reportedly said, "There was never any question in Harry's mind that he would sign a prenup. He's determined that his marriage will be a lasting one, so there's no need for him to sign anything."
The claims might come as a bit of the shock because, just days before, columnist Sophia Money-Coutts shared that a prenup was being worked on, according to The Daily Mail. She reportedly said, "Both Harry and Meghan have assets to protect. Given divorce rates, it's worth couples having a frank discussion about what each is bringing to the party before signing that marriage register."
But said divorce rates might make their marriage stronger.
According to Dr. Wyatt Fisher, a Colorado-based licensed psychologist and couples counselor, Markle and Prince Harry's marriage might last longer because they both come from broken marriages. (Markle's parents divorced when she was 6, and Prince Harry's split when he was 8.) Dr. Fisher explained,
When both partners come from a divorced family, it can usually impact the relationship in one of two ways. First, it can create a strong desire in both to not repeat their own upbringing with divorce and to do things differently in their marriage to make it last.
Though Dr. Fisher added that people who come from broken marriages can also see divorce as a solution or an "easy out," I'm sure the royal couple can always turn to Prince William and Middleton whenever they need advice.
The royal family seems to adore Markle.
When Markle isn't twinning with Middleton or getting royalty lessons from her future sister-in-law, she's busy on outings with the royal family. In December 2017, the family even invited Markle on their annual Christmas trip to Sandringham, which is a major break from tradition, as the occasion is usually reserved for spouses.
When speaking about Markle's relationship with the family, a source told Us Weekly that she gets along with everyone, revealing, "Meghan gets along great with everyone. They're so pleased to see Harry in a good place and planning his future."
I gotta agree with the source: I'm so happy to see that Prince Harry is so confident about his future with Markle. Besides, prenups just seem like a horrible way to start things off on the wrong foot. (IMO, at least.) And with such a strong foundation and support from so many people, what could honestly go wrong?