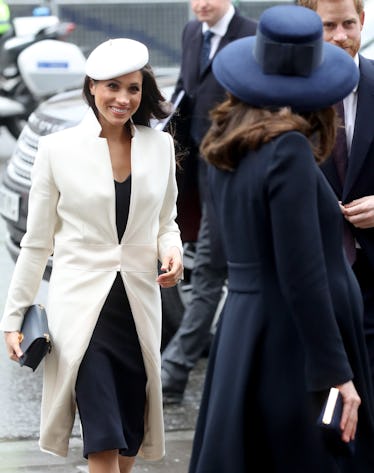 Meghan Markle & Kate Middleton Just Dressed The Exact Same, So Twinning Is Cool Again
Chris Jackson/Getty Images Entertainment/Getty Images
On March 12, the British royal family attended a church service at the Westminster Abbey to celebrate Commonwealth Day. And while I typically don't seek out photos of such outings, I can't stop staring at photos from it because Meghan Markle & Kate Middleton's heels are the EXACT SAME in all of them. They both wore navy pointy-toes pumps that by all appearances are replicas of one another, which leaves me with SO many questions. Was the twinning intentional? Did Middleton lend Markle her extra pair after she stepped in a puddle? Who designed the bound-to-sell-out pumps?
Most of these questions will likely go unanswered but that's beside the point, which is matching with your sister (or bestie, mom, etc.) in public is totally acceptable again. Moms across the world, rejoice.
When we were growing up, my mom would put my sister and I in coordinated dresses, preferably from Laura Ashley, and didn't shy away from matching us, herself. Blue floral frocks with straw hats to match; pink co-ords and white bows — I didn't mind looking like my sister's mini me when I was small but as soon as I hit 12 years-old I was not having any of it, much to my mom's chagrin. Even hand-me-downs from my sister made me cringe. Match Natalie in photos taken of her two years prior? Never! I thought it to be exceedingly uncool to match my sister, but if I'd seen a Duchess doing it, I might have sung a different tune.
As I mentioned, Markle and Middleton stepped out together, along with Prince Harry, Prince William, Prince Charles, and, of course, Queen Elizabeth, to attend a service celebrating Commonwealth Day. According to their website, the Commonwealth is " a voluntary association of 53 independent and equal sovereign states" that is " home to 2.4 billion people and includes both advanced economies and developing countries." The Queen is Head of Commonwealth so yeah, the annual service is a big deal.
For the momentous occasion, the Queen arrived in a scarlet coat and flower-clad brimmed hat by Angela Kelly, and accessorized with a matching flower brooch composed of diamonds and rubies. Her shoes were reminiscent of Gucci loafers, featuring small heels and a black patent finish. Markle, arm in arm with Prince Harry, arrived in a cream coat by Amanda Wakeley and a matching beret by Stephen Jones, while Middleton, alongside Prince Harry, was bundled in a navy coat by Beluah London and brimmed hat by Lock and Co.
Middleton added a bit of sparkle to her look with a crystal brooch and matching earrings, while Markle's look remained largely void of accessories, save her clutch. Their looks were chic, sleek, and right on track with the stylish reputations they've both built — which is what makes their matching shoes even stranger.
Both Middleton and Markle opted for a pair of suede navy pumps that look exactly the same. Considering both are sartorial trailblazers in their own right (anything relatively affordable that either of them wears seems to sell out at lightning fast speed), it's surprising they'd plan to so obviously match at such a high-profile event. After some digging, I discovered that the shoes aren't actually by the same designer: According to Hello! magazine, Middleton wore a pair of Celeste pumps by Jimmy Choo, while Markle wore navy BB pumps by Manolo Blahnik. While they are technically different styles, it's mind-blowing that whoever styles the royal family members (and perspective members) wouldn't compare their outfits beforehand to make sure they wouldn't overlap. Then again, maybe they did and the two simply didn't care. Let's go with the latter, because I am dying to see them pull off another twinning win again.