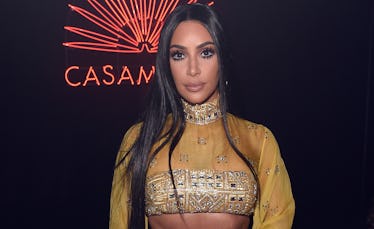 Demi Lovato's Fans Are Calling Out Kim K For "Copying" Her Halloween Costume
Halloween is officially over, but what's not over is all of the celebrities showing off their costumes on Twitter and Instagram. I think we can all agree the best part about being rich and famous is you have the means to come up with the most lit Halloween costumes ever. Kim Kardashian, for example, crushed it this year with her Cher, Aaliyah, and Madonna costumes, but fans are ticked at her costume from last night. She donned a purple jumpsuit and dressed as singer Selena Quintanilla, and people think Kim Kardashian "copied" Demi Lovato's Selena costume.
A couple of days ago, Lovato posted pics of her Selena costume on Snapchat and people were loving it. The singer wore Selena's signature purple jumpsuit, donned a long black wig, and finished off the look with bright red lipstick and hoop earrings. She truly slayed the look, and Kim Kardashian's Selena costume is admittedly really similar to it. Kardashian also wore the iconic purple jumpsuit paired with a dark wig and a microphone, and people are calling her out on Twitter for seemingly copying Lovato's costume. But honestly, Selena is a really popular Halloween costume. I'm surprised more celebrities didn't accidentally choose the same look this year.
Here's Kim Kardashian's Selena costume:
And here's Demi Lovato's Selena costume:
While lots of people are saying Kardashian "copied" Lovato, there are those who think Lovato pulled off the look better.
Even though Kardashian and Lovato ended up wearing the same costume, I feel like this wasn't intentional on Kardashian's part, seeing as every single one of her Halloween costumes this year was inspired by some of the world's most iconic singers.
For her first costume, Kardashian dressed up as Cher and had her best friend, Jonathan Cheban, be Sonny.
For her second costume, Kardashian dressed as Aaliyah.
For her third costume, Kim Kardashian and Kourtney Kardashian teamed up and dressed as Madonna and Michael Jackson.
So Kardashian dressing up as Selena last night definitely fits into the theme of her 2017 Halloween costumes. I think this all boils down to coincidence, guys.
Demi Lovato doesn't even seem phased by Kardashian's costume, seeing as she posted this photo of her absolutely slaying her cop costume and looking like she's having a grand old, spooky time.
She captioned the picture, "Protect and serve. Happy Halloween," and I am shooketh. Before all of this Halloween drama, Demi Lovato's newest documentary, Simply Complicated, came out earlier in October. In the doc, the singer opened up about her struggles with addiction, eating disorders, and her mental health. In the documentary, she revealed she first tried cocaine when she was 17 years old while still working on Disney Channel. She said,
My first time doing coke, I was 17 working on Disney Channel, and I was with a couple of friends and they introduced me to it. I was scared because my mom always told me that your heart could just burst if you do it. But I did it anyways and I loved it. I felt out of control with the coke the first time that I did it.
She also opened up about her struggles with eating disorders and how she realized food was a kind of "medicine" for her at an early age. The singer said,
I would bake cookies for my family and I would eat all of them and nobody would have any to eat. That was my first memory of food being that medicine for me. Body image, what I'm going to eat next, what I wish I could be eating, what I wish I didn't eat. It's just constant. Like I get envious toward people that don't struggle with an eating disorder just because I feel like my life would be so much easier.
The documentary also featured her talking about her bipolar diagnosis, saying being diagnosed with the disorder made her realize not all of her struggles were completely her fault. She said,
I was 18 when I first went into treatment. When I got diagnosed with bipolar disorder, it just made sense. When I was younger I didn't know why I would stay up so late writing and playing music, and then I learned about episodes of mania and I realized that's probably what it was. I was manic. In a way, I knew that it wasn't my fault anymore. Something was actually off with me.
So, what do you think? Did Kim K really copy Demi Lovato, or was this just a Halloween coincidence?