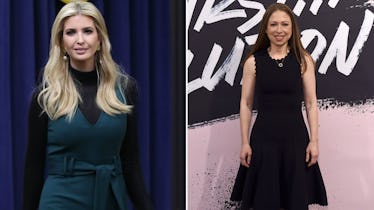 Ivanka Trump & Chelsea Clinton Didn't Get To Share This Big Memory
Mark Wilson/Getty Images News/Getty Images/Ilya S. Savenok/Getty Images Entertainment/Getty Images
You might not know this but at one point in time Ivanka Trump and Chelsea Clinton were pals. If you think back to a time before the election, it kind of makes sense too. They're around the same age and both had parents who were heavy hitters, respectively. After the 2016 election that friendship isn't exactly thriving, but it makes me think about the before times and wonder, did Ivanka Trump go to Chelsea Clinton's wedding? Doesn't look like it.
While Clinton's wedding boasted a guest list of 500 plus people, including Oprah, the Obamas and Steven Spielberg, there are no reports stating that Trump was at the wedding or even invited. But I wouldn't go jumping to any conclusions, it doesn't seem like it was out of ill will. Even though the Trumps and Clintons knew each other, Hillary Clinton and President Bill Clinton were in attendance when President Trump married Melania Trump in 2005, it's possible that the two daughters of politics weren't yet friends when Chelsea tied the knot in 2010. Though the timeline of their friendship is a little unclear, they were introduced by their husbands, Jared Kushner and Marc Mezvinsky, and according to Politico, their introduction took place only a few years before the election, that's presumably after they both got married.
But you know who did know the Clintons and didn't score an invite to the wedding? President Trump. According to a 2016 report from The Cut, the president actually tried to crash Chelsea Clinton's wedding in 2010. In his 2016 book Man of the World: The Further Endeavors of Bill Clinton, political journalist Joe Conason wrote that Trump actually thought his invite to Clinton's wedding got lost in the mail (like mine does to every celebrity wedding ever). He reportedly went as far as to try and get directions to the event from Doug Band, an aide at the Clinton Foundation at the time, in order to show up. Conason wrote,
'I'm supposed to be at the wedding, Doug,' said Trump briskly, 'but I didn't receive the invitation, and I need to know where to go.' Band knew Trump wasn't on the list, of course, and politely urged him to get in touch with Chelsea for directions. At that point, the would-be wedding crasher apparently gave up.
Now that takes guts. I've had hundreds of invitations get lost in the mail, but you think I called up Prince Harry and Meghan Markle and was like, "Hey drop me a pin?"
President Trump not being invited isn't a comment on Trump and Clinton's friendship, of course. The fact that Trump wasn't at Clinton's wedding doesn't even say much — weddings are expensive events full of family, and we all have people we love but didn't make the cut. In any case, the wedding was years and years before President Trump running for office was even a thought (or at least one we knew about).
But the friendship does appear to have cooled in the intervening years. Though Clinton told Cosmopolitan back in January 2016 that the two political daughters didn't want politics to get in the way of their friendship, it ended up happening anyway. During an appearance on The Late Show with Stephen Colbert in the beginning of March 2018, Clinton said that she and Trump are no longer friends. "I have not spoken to her in a long time," Clinton said. "It's clear, though, that she has supported policies and decisions that I don't agree with. I've been very vocal about my opposition to President Trump."
Well, that's that.
Maybe one day they'll be friends again, but in the meantime I know one thing for certain: no one invited me to Clinton's wedding and I'm still not over it.