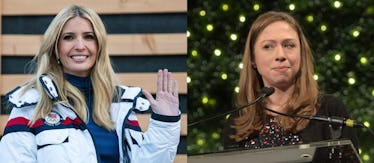 Chelsea Clinton Had Some Harsh Words About Her Old Friend Ivanka Trump
Carl Court/Getty Images / Jason Kempin/Getty Images for City Harvest
On Monday night, Chelsea Clinton appeared on the The Late Show with Stephen Colbert, and the host probed the former first daughter over her relationship with the current first daughter, Ivanka Trump. That Clinton and Trump, as two New York City socialites, formed a friendship over the years has been a much-publicized fact. But Colbert asked a question that was all about the present: Is Chelsea Clinton still friends with Ivanka Trump these days?
Clinton was not afraid to answer.
"I have not spoken to her in a long time," Clinton told Colbert. After saying she was "absolutely" friends with Trump before the 2016 presidential election, Clinton went on to say, "It's clear, though, that she has supported policies and decisions that I don't agree with. I've been very vocal about my opposition to President Trump."
After Colbert joked whether or not she could call Trump and ask the first daughter to advise against the president's behavior, Clinton replied, "I mean, I'm just really sad that we're at a point in time where that even has to be said. That we're at a point in time where we have a president who has such, you know, callous disregard for thoughtful, coherent, kind of expert-advised foreign policy."
Clinton and Trump did indeed say there were friends before the election, even in the few months before voters headed to the polls.
In July 2016, Trump told People magazine, "We're both incredibly supportive of our parents, as we should be. But we also continue to have great respect for one another."
A month later, after Clinton made a speech at the Democratic National Convention — before her mother formally accept the party's nomination — then-Republican candidate Donald Trump said, "I thought Chelsea did a nice job. You know, Chelsea likes Ivanka and Ivanka likes Chelsea. I wish they didn't like each other, but they do." He also added, "It's easier if they don't like each other. You would think that relationship would be strained, but they like each other."
Now, however, it appears that Ivanka Trump's role in her father's White House has put a strain on the two women's relationship.
You can watch the video of Clinton's interview with Colbert in the clip below.
Trump's role inside the White House was another subject that came up during Clinton's interview on The Late Show.
When asked whether Ivanka Trump is fair game for criticism — with consideration of the fact that she's in the unorthodox position of being both the first daughter and a White House official — Clinton told Colbert, "I think anyone who works for the president is — certainly should expect to be scrutinized for not only whatever decisions she or he is making but also for whatever decisions the White House is making on any given day."
Clinton's comments come a week after an interview between Trump and NBC News national correspondent Peter Alexander raised questions about whether it's inappropriate to ask the first-daughter-slash-senior-aide about sexual assault allegations against the president.
During the interview, after Alexander asked whether Ivanka Trump believes accusers of her father, Trump replied, "I think it is a pretty inappropriate question to ask a daughter if she believes the accusers of her father when he has affirmatively stated that there is no truth to it. I don't think that's a question you would ask many other daughters. I believe my father, I know my father. So I think I have that right as a daughter to believe my father."
Clearly, Chelsea Clinton doesn't feel the same as Ivanka Trump, a woman who used to be her friend. Or, at least, one that she hasn't talked to in a long time.
Disclosure: Chelsea Clinton's husband Marc Mezvinsky joined Social Capital, an investor in Bustle Digital Group, in mid 2017 and joined the Board of Bustle Digital Group in early 2018.