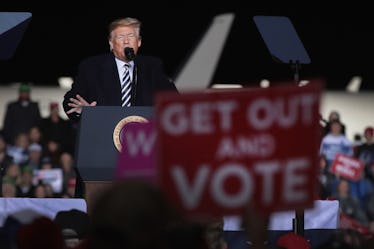 Donald Trump Didn't Go To A Polling Place To Cast His Vote In The Midterms
Scott Olson/Getty Images News/Getty Images
You (probably) voted. You know some of your peers voted. And you've likely seen dozens of celebrities post their "I Voted" stickers. But you're probably wondering: did Donald Trump vote in the 2018 midterms? After all, he seemed to tweet and talk about the event more than anybody else, right? Well, let's just say he didn't go to a polling place to cast his vote.
Considering the midterm elections historically have low voter turnout, it probably wouldn't be totally surprising if President Trump didn't vote. But this year, there was a huge turnout in voters — and yes, he was one of them. According to Quartz, he even voted early. A spokesperson for the White House reportedly told the outlet that Trump voted "absentee a couple of weeks ago" — an option he apparently chose because he's registered to vote at his New York address rather than his address in Washington D.C. Elite Daily reached out to the White House for further comment on whether Trump voted but did not hear back by the time of publication.
Trump also voted in the 2016 presidential election, so that's a little telling — but the moment was publicized for all the wrong reasons. He was photographed seemingly looking over Melania Trump's shoulder as she cast her ballot, as if he couldn't trust his very own wife to vote for him — and Twitter had a field day with it.
When it comes to the 2018 elections, Trump had been an outspoken figure in the weeks leading up to the race, endorsing GOP candidates in rallies and speeches while slamming their opponents. He notably weighed in on Georgia's gubernatorial race between Republican Brian Kemp and Democrat Stacey Abrams on repeated occasions, calling the former "extraordinary" and painting the latter as an extremist. He also weighed in on Florida's gubernatorial race between Republican Ron DeSantis and Democrat Andrew Gillum multiple times with similar takes.
Moreover, Trump had also hunkered down on various issues in hopes of securing Republican control of Congress. He particularly used the caravan of thousands of Central Americans heading to the U.S. southern border to renew calls for a border wall. On various occasions, Trump referred to the migrants as criminals, although many are simply seeking refuge from poverty and violence, which met backlash. Democrats have long rejected the wall and accused Trump of using the issue to drum up support from GOP voters. He followed up with a call to end birthright citizenship, which gives any child born on U.S. soil the right to American citizenship, but, well, that didn't go to smoothly, either. Elite Daily reached out to the White House for further comment on Trump's reasoning behind trying to end birthright citizenship but did not immediately hear back.
When you take all of that into consideration and everything that was at stake this year, it seems that Trump would most definitely vote in the midterm elections. Maybe he just kept it low-key so he wouldn't fall victim to the Twitterverse and all of its jokes again. Who knows.