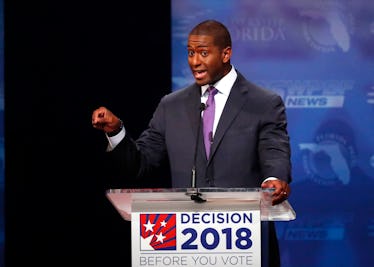 This Democratic Candidate Clapped Back At Donald Trump's Insults With The Best Response
Pool/Getty Images News/Getty Images
Ahead of what's shaping up to be a pivotal midterm election this year, contentious battles are going on at seemingly every level. While the president has been making the rounds to rally voters to support Republican candidates, he's also been ramping up his usual attacks on Democrats. But Tallahassee mayor and Democratic gubernatorial candidate Andrew Gillum isn't backing down in the face of the president's tweets. Gillum's clapback at Donald Trump's insults shows he's not here for this.
"In Florida there is a choice between a Harvard/Yale educated man named @RonDeSantisFL who has been a great Congressman and will be a great Governor," Trump tweeted Monday morning, "and a Dem who is a thief and who is Mayor of poorly run Tallahassee, said to be one of the most corrupt cities in the Country!"
Gillum, the 39-year-old Democrat running against Republican Ron DeSantis, stands to become the state's first black governor. Polls in the month leading up to the election have consistently shown Gillum in the lead.
But if the president was looking to throw Gillum off his game, he may not have gotten the response he was expecting. By day's end, Trump saw his own put-down get turned back around on him — and even used to rally Floridians to the polls.
"On Twitter there is a choice between having the courage to @ the person you are trash talking, or not," Gillum wrote on Twitter Monday morning, quoting the president's tweet. "@realDonaldTrump is howling because he's weak. Florida, go vote today."
Ooh, burn.
Trump doubled down on bashing Gillum in a Fox News interview with Laura Ingraham Monday, calling him a "stone-cold thief." Gillum, again, didn't take it sitting down.
"I heard @realDonaldTrump ran home to @FoxNews to lie about me," Gillum tweeted Monday night. "But as my grandmother told me — never wrestle with a pig. You both get dirty, but the pig likes it. So ignore him and vote, Florida!"
Gillum even followed up on Tuesday, tweeting, "p.s. Mr. @realDonaldTrump, I am a graduate of THE Florida Agricultural & Mechanical University (FAMU) — an HBCU [Historically Black College/University] founded on October 3, 1887. Google it."
(In case you're wondering what the snake is there for, that's the FAMU mascot. But for those of us who remember the Kim Kardashian/Taylor Swift feud, tweeted snake emojis hold a very specific association.)
It's not the first time Trump has gone after Gillum. The two have had beef since the Florida governor nominees were confirmed in late August, when Trump tweeted that DeSantis' "opponent in November is his biggest dream....a failed Socialist Mayor named Andrew Gillum who has allowed crime & many other problems to flourish in his city."
The president also bashed Gillum on CNN, calling him a "horrible choice."
But Gillum shot right back: "I don't think we've ever seen a sitting president go after a sitting mayor in a community that is preparing itself for a near-Category 4 hurricane to attack it," he told CNN. He made it clear he's not a fan of the president, either, adding that he believes Congress should impeach him.
DeSantis resigned as congressman in September, saying that the gubernatorial race would siphon his time away from his congressional duties. His resignation came amidst reports that he'd spoken four times at "racially charged" events alongside said-to-be extremist speakers, and just days after being criticized for saying that "the last thing we need to do is monkey this [election] up," with Gillum's agenda. DeSantis' campaign did not respond to Elite Daily's request for comment at the time.
As voters head to vote next week, whether Trump's attacks against the Democrat — or the candidate's rebuttals — carry any sway in the midterms, next Tuesday will tell.