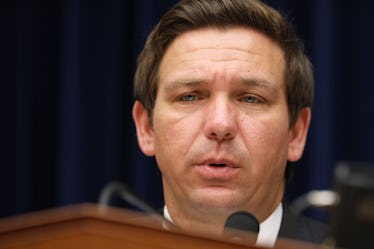 This Member Of Congress Is Stepping Down, But The Timing Is Very Interesting
Chip Somodevilla/Getty Images News/Getty Images
Ron DeSantis, a U.S. House Representative for Florida's 6th district, apparently won't be participating in any more votes this session. The three-term Republican announced his resignation from the U.S. House on Monday, Sept. 10. As to why Ron DeSantis resigned, the reasons remain unclear. Elite Daily reached out to DeSantis' gubernatorial campaign for comment on his resignation and the timing of it but did not receive a response at time of publication.
Per a resignation letter shared with Elite Daily by his congressional office, DeSantis suggests he's resigning in order to focus his effort in the next couple of months on the November midterm elections, where he's in the running to become Florida's next governor. DeSantis clinched the party nomination after his victory in the state's primary elections on Aug. 28.
"As the Republican nominee for Governor of Florida, it is clear to me that I will likely miss the vast majority of our remaining session days for this Congress," DeSantis wrote in the letter addressed to House Speaker Paul Ryan, also published on his congressional website Monday.
But the timing of the resignation has raised eyebrows, as it comes shortly after the representative was criticized and called out for "racist" remarks. On Sept. 9, The Washington Post reported that DeSantis had spoken four times at "racially charged" events organized by David Horowitz, a controversial figure labeled by the civil rights groups as an "anti-black" extremist, while a 2017 appearance reportedly had him speaking alongside Milo Yiannopoulos and Charlie Kirk. DeSantis' congressional office and gubernatorial campaign did not respond to questions about the speeches.
And last month, DeSantis was taken to task over comments he made about his competitor in the Florida governor's race, Democratic nominee and current Tallahassee mayor Andrew Gillum, suggesting that the black politician would "monkey this [race] up." DeSantis' office and campaign did not respond to questions about the remarks.
"The last thing we need to do is to monkey this up by trying to embrace a socialist agenda with huge tax increases and bankrupting the state," DeSantis told Fox News in an Aug. 29 interview.
In the resignation statement, the Florida Republican also offered up taxpayers as the reason he was choosing to step down as representative. "Under these circumstances, it would be inappropriate for me to accept a salary," DeSantis continued in his letter. "In order to honor my principles and protect the taxpayer, I officially resign from the House of Representatives effective immediately."
He additionally requested that his salary from Sept. 1 be retroactively rescinded. Taxpayers, through the U.S. Treasury, foot the bill for Congress' salaries, which according to the Congressional Research Service, are an average of $174,000 a year.
In fact, DeSantis hasn't participated in a House vote since July 26, but his campaign for governor was officially announced on Jan. 5, 2018. Elite Daily reached out for comment specifically about DeSantis' beliefs around congressional salaries during campaign season but did not receive a response at time of publication.
As to the fate of DeSantis' House seat, his resignation Monday doesn't tangibly change much. Though he was up for re-election since he had chosen to run for a different office, he isn't in the running for his House seat. (Democratic nominee Nancy Soderberg and Republican nominee Michael Waltz will face off to take his spot in November.)
Per Politico, current Florida Gov. Rick Scott, who has the discretion to appoint a replacement for DeSantis, probably won't do so before the year's end, leaving the House seat vacant for now. Just another guessing game in #Midterms2018.