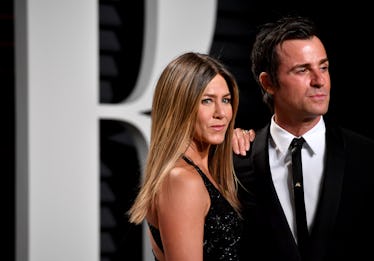 Details About Justin Theroux Following His Jennifer Aniston Separation Are Heartbreaking
Pascal Le Segretain/Getty Images Entertainment/Getty Images
Is anyone more of "America's sweetheart" than Jennifer Aniston? No. We love her, we adore her, and we only want good things for her. That's why fans everywhere were devastated when she and Justin Theroux announced their separation on Feb. 15. The couple claimed they were going to continue being friends, but breakups are tough (even for the rich and famous). Details about Justin Theroux and Jennifer Aniston's relationship after their separation will have you grabbing a pint of ice cream and turning on your favorite episode of Friends for comfort. May I recommend "The One With All The Resolutions"?
After two years of marriage, Theroux and Aniston decided to amicably call it quits. Aniston and Theroux met in 2008 while filming Tropic Thunder in Hawaii. Romance rumors about the pair started swirling in 2011. Apparently, it wasn't all rumors because the two ended up tying the knot in 2015.
As far as life after the separation, Theroux is focusing on staying out of the limelight and adapting to a new normal. A source exclusively told Entertainment Tonight about the actor,
Justin's going to lay low now and just try to recalibrate. The last thing he needs is to be on a major talk show so soon after the announcement where the focus will inevitably be on the split.
A reported strain on their relationship came from the fact that the two spent a lot of time in different cities. Aniston is partial to Los Angeles while Theroux invested most of his time in New York City. The source explained that Theroux tried his best to make Aniston feel "comfortable" in NYC. They continued,
He really wanted her to be comfortable [in New York]. He even negotiated with the paps to make a deal that they would only shoot her once per day and then leave her alone. He also agreed to move out of his apartment, which he loves.
A rep from the couple spilled the news about the separation, but made it sound like the two are handling it as amicably as possible. Their joint statement to ABC News read,
In an effort to reduce any further speculation, we have decided to announce our separation. This decision was mutual and lovingly made at the end of last year. We are two best friends who have decided to part ways as a couple, but look forward to continuing our cherished friendship.
Questions about their marriage started popping up after Aniston's 49th birthday on Feb. 11. Theroux was mysteriously absent during the celebration to ring in Aniston's big day. Instead, the actress spent the night with close gal pals, including Courteney Cox. Rachel and Monica = BFF4L.
Aniston and Theroux (like many famous couples) have gone through the ups and downs of tabloid news. It seems like every week a publication was declaring they were on the rocks. Previously, the couple just laughed it off, according to Theroux. He told Vanity Fair in April of 2017,
I think it would be funny to do a compilation of those headlines. Let's assume these characters we play in the tabloids are real people. I would love to take them to a shrink and have them analyzed. Like, are these people insane? Yes, they fight every day, they're constantly getting divorced, they're hoarding children at this point. Imagine what those people would actually be like! They'd be f****** bananas! They'd be the most bipolar people on the planet. Constantly storming in and storming out! Devastated! Crying! Rage! Someone should give a clinical diagnosis of one year in our lives. It would be super funny. What medication would you give these people to help them out?
Back then, Theroux mentioned that having Aniston as his support system made all the tabloid noise insignificant. He added, "Marriage makes the small things much smaller and the big things small ... It's good to have someone have your back."
However, it looks like these days the reports are true and the couple will be heading their separate ways. Wishing the best for Aniston and Theroux.
Check out the entire Gen Why series and other videos on Facebook and the Bustle app across Apple TV, Roku, and Amazon Fire TV.