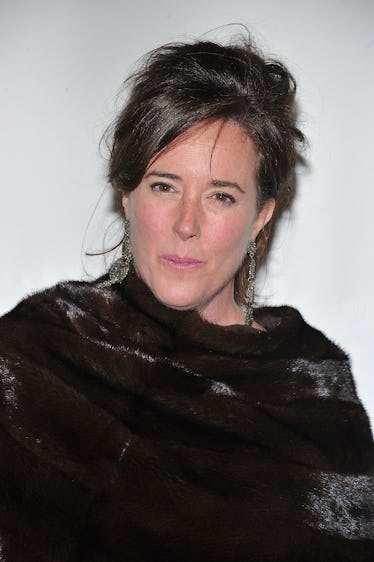 Designer Kate Spade Has Been Found Dead At 55 & It's Heartbreaking
Theo Wargo/Getty Images Entertainment/Getty Images
In some utterly tragic news for the fashion world and beyond, designer Kate Spade has been found dead in her Manhattan apartment this morning. According to CBS2, she died of an apparent suicide at age 55. The designer will be remembered as one of fashion's most game-changing and vivacious creatives whose line of handbags and ready-to-wear embodied an unparalleled playfulness and joyfulness.
Born in Kansas City, Missouri, Spade earned a degree in journalism from Arizona State University before going on to work for Mademoiselle magazine in New York City. She rose through the ranks, eventually becoming a senior fashion and accessories editor before departing from the publication in 1991 to launch her own line of handbags.
1993 saw the beginning of what would become Spade's veritable fashion empire. The designer launched her line of handbags and opened a boutique in SoHo shortly after. Known for their practicality, sleek design, and quirky pops of color, the bags became a hit, counting Bloomingdale's, Saks Fifth Avenue, and Neiman Marcus among stockists. Spade had met her husband, Andy Spade, while still working at Mademoiselle, and with his support, grew the brand to become one of the most ubiquitous names in fashion.
In 1996, the Council of Fashion Designers of America awarded Spade with the "America's New Fashion Talent in Accessories" award, but the brand grew to be equally known for its purses as for its eyewear, cosmetics, eyewear, paper goods, shoes, and, eventually, clothing. She went on to win Accessory Designer of the year at the CFDA awards two years later in 1998.
After the 2005 birth of their daughter, Frances Beatrix Spade, Spade and her husband decided to sell the company in order to have more family time. In 2006, Liz Claiborne Inc. bought Kate Spade New York, and Spade officially left the company in 2007.
Two years ago, in 2016, the Spades made a bold return to the design sphere, launching a new accessories brand, Frances Valentine, alongside their friends, Elyce Arons and shoe designer Paola Venturi. The designs are bright, practical, and don't take themselves too seriously —t hey meld the best elements of Kate Spade New York with an aesthetic that's all their own. Spade's lighthearted approach to fashion and honed eye can be detected within every piece; it's a brand for sartorially adventurous women who want to have fun when they get dressed. The line is, on all accounts, a beautiful representation of Spade herself.
Spade's imprint will forever remain. She was a creative visionary who sought to empower women through her designs, which helped set the stage for the current fashion landscape. To quote the designer, "In order to lead a fascinating life, one brimming with art, music, intrigue, and romance, you must surround yourself with precisely those things." Spade did just that.
The reactions of designers, celebrities, and fashion fans alike to Spade's death prove just how beloved she was within and beyond the fashion industry:
While indescribably saddening, this news will hopefully continue the much-needed conversation surrounding the stigma of mental illness. As put by Adam Best, "Let's make sure the tragic suicide of Kate Spade isn't all for nothing and learn from this. As someone who has struggled with depression, can report that sometimes tough times hit when nobody else would expect. Mental health is a life-or-death issue. Check in with loved ones."
Other Twitter users also voiced the importance of seeking help if you're in need, highlighting the fact that there is no shame in doing so.
Rest in peace, Kate Spade.
If you or someone you know are experiencing suicidal thoughts, call 911, or call the National Suicide Prevention Hotline at 1-800-273-8255.