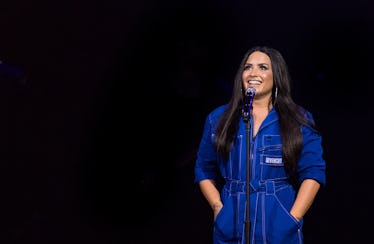 You Can Watch Demi Lovato's Epic March For Our Lives Performance Here
Christopher Polk/Getty Images Entertainment/Getty Images
The response to the Feb. 14 school shooting that took 17 lives at Marjory Stoneman Douglas High School in Parkland, Florida has been decidedly different than any other mass shooting in the United States. Thanks to the efforts of people like the Stoneman Douglas students and organizations like Everytown for Gun Safety, the March For Our Lives demonstration calling for an end to gun violence in schools and communities took place in Washington D.C. on March 24, 2018. Unsurprisingly, many high-profile celebrities added their voices to the cause, and superstar Demi Lovato was one of the artists who appeared at the D.C. march. Demi Lovato's March For Our Lives performance was powerful.
In a March 14 interview with CNN, one of the survivors the Feb. 14 school shooting, David Hogg, shared that Lovato would be one of the stars in attendance at the March For Our Lives in Washington D.C. Not only was Lovato there to show her support for the cause, but she also took to the stage to give a very emotional performance. Lovato performed her hit song, "Skyscraper."
Demi's song, "Skyscraper," has lyrics that reflect many reasons why protesters are taking a stand.
The chorus of her lyrics say:
You can take everything I have
You can break everything I am
Like I'm made of glass
Like I'm made of paper
Go on and try to tear me down
I will be rising from the ground
Like a skyscraper, like a skyscraper
You can see video of her performance here:
Prior to attending the March For Our Lives in D.C., Lovato shared her support of the March For Our Lives cause on Twitter. On March 18, Lovato tweeted a call to her Twitter followers (and Lovatics) to RSVP showing their support for the March For Our Lives. She wrote,
On March 24th #IWillMarch to show my support for the students across the country who are demanding that leaders take action to end gun violence in our schools and communities. March with us and RSVP...
Lovato also expressed how impressed she is with the work the student survivors have done in the wake of the tragedy to make sure that the United States is never again home to a mass shooting. Lovato singled out Emma González, and Lovato shared how honored she is to be a part of March For Our Lives in a tweet that read, "I've been so amazed by the work @Emma4Change and the rest of the Parkland students have been doing. You guys are the future. I'm honored to be a part of this!!"
Lovato seemingly shares the view of many Americans and people around the world who are impressed with the grassroots movement from the Marjory Stoneman Douglas students calling for stricter gun legislation. These students have banded together in the wake of unthinkable tragedy to fight for real change. The government's response (by way of White House Press Secretary Sarah Sanders) to the Oct. 2, 2017 Las Vegas massacre that killed 58 people was that the aftermath of a mass shooting was not the right time to discuss policy changes and laws that might prevent another mass shooting.
After Feb. 14, 2018, students from Stoneman Douglas decided that their safety (and all students' safety) is too important not to talk about the policy and legislative changes that need to be made to prevent future mass shootings. As the Stoneman Douglas survivors called for action immediately following the tragedy, the March For Our Lives was announced. The march finally took place on March 24 (with plenty of support from celebrities and everyday Americans alike), and it helped further solidify that most Americans stand with the Stoneman Douglas students who refuse to let their tragedy be just another statistic.