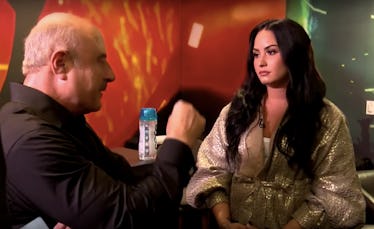 Demi Lovato Says She Had Suicidal Thoughts When She Was 7 & The Video Is Heartbreaking
YouTube
Demi Lovato has always been a crusader when it comes to speaking openly about sobriety and mental health. Because of this, her fans have always rallied behind her when it comes to her thoughts on body positivity, mental wellness, and the struggles she's faced in her life. But sadly, she revealed in a new interview that her issues with depression began very early in her childhood, and that she struggled with the idea of suicide. Demi Lovato's interview with Dr. Phil about her suicidal thoughts is a sobering realization that no one is exempt from depression or mental illness — not even a beautiful and talented performer like Demi Lovato.
In a preview clip for The Dr. Phil Show, Lovato candidly speaks about her childhood struggles with suicide, depression, and self-harm. It's incredibly sad to hear, but it's also important to note that Demi Lovato has maintained her sobriety for six years and has clearly made huge strides with her personal battles.
In the clip, Lovato says, "The very first time I was suicidal was when I was 7," and those thoughts, unfortunately, lead her down a destructive path. "When I was bullied when I was 12, I turned to drugs and alcohol. At the rate that I was using and drinking, I wasn't going to live a long life," she continued, and mentioned that she practiced self-harm when she was younger. She said, "I turned to cutting. Every time I cut it got deeper and deeper."
While it must be a heavy topic to speak openly about, Lovato does so bravely, and confirms to Dr. Phil that she was diagnosed with Bipolar Disorder, something that she's been very candid about in the past since her diagnosis back in 2011.
You can watch the preview clip below:
The full episode aired on Tuesday, March 20, at 3 p.m. on CBS.
It's difficult to see someone so accomplished and talented talk about her struggles with mental illness and sobriety, but as we all know, Demi is a damn warrior who won't let anything stop her or bring her down, and she gives her fans the encouragement to take better care of themselves.
In an interview with Elvis Duran as part of the iHeartRadio's Label Defiers with ZICO Coconut Water podcast back in July of 2017, Lovato spoke about how being bipolar does not make up who she is:
I think when people refer to me as being bipolar, it's something that is true — I am bipolar — but I don't like people to use it as a label. It's something I have, it's not who I am ... I think Demi Lovato, activist, is something that I would really be proud of.
She also stressed the importance of raising awareness if you have the means and platform to do so. She said,
I think it's important to speak up about the things that you believe in because your voice will be heard no matter what position you're in. And I just happen to be in a position where more people will hear my voice than they would have 10, 15 years ago. I use my voice to do more than just sing and I use it to speak up about mental health because that's something I'm very passionate about ... I'd say the whole world knows the real me because there's nothing that I hide.
Demi Lovato is so forthcoming about everything that it makes me (and pretty much the entire world) want to thank her and give her a big hug.
In an interview with Billboard, Demi Lovato revealed that she even left the 2016 Met Gala early to go to an AA meeting, because an unnamed celebrity was making her so uncomfortable that she was considering having an alcoholic drink. She said she texted her manager and went straight to an Alcoholic Anonymous meeting:
I changed my clothes, but I still had my diamonds on — millions of dollars of diamonds on in an AA meeting. And I related more to the homeless people in that meeting who struggled with the same struggles that I deal with than the people at the Met Gala — fake and sucking the fashion industry's d*ck.
Now THAT'S what I call resilience.
While Demi Lovato has been upfront about her traumatic past, I don't think there's anyone who questions her powerful, bright future.
We love you, Demi!
If you or someone you know are experiencing suicidal thoughts, call 911, or call the National Suicide Prevention Hotline at 1-800-273-8255.