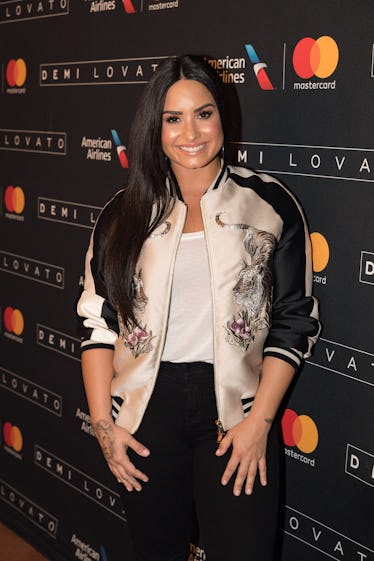 Demi Lovato Celebrated 6 Years Of Sobriety & Her Fans Are So, So Supportive
Christopher Polk/Getty Images Entertainment/Getty Images
I have been a huge fan of Demi Lovato ever since the former Disney star sang about wearing Converse and eating McDonald's on her very first album, Don't Forget, back in 2008. The 25-year-old pop star has just always seemed so real and down-to-earth to me. And as she's gotten older, she hasn't shied away from opening up to her fans about all the hard stuff that came along with her fame — like having an eating disorder and suffering from both mental health issues and addiction. Her openness has made her a huge inspiration, and tweets about Demi Lovato's sobriety show her fans are so supportive of everything she's gone through.
Demi chronicled her struggles with her recovery in her documentary, Simply Complicated, a film that starts off with the startling admission that the singer was doing cocaine during most of the filming for her previous documentary, Stay Strong, which was released in 2012. Pretty scary.
"I was so honest in that documentary, but I wasn't honest enough, and I think it was because I wasn't honest with myself," she admitted to People. "Yes, I did touch on issues and certain things that were real and true but I think the biggest problem was I was lying to myself. And in this documentary, I'm 1,000 percent sober and I get to really explain myself and apologize to my fans."
Wow. Luckily, Demi has come a long way since making that first documentary, and in fact, she took to Twitter shortly after midnight on March 15 to share the news that she has officially spent the last six years free of both drugs and alcohol!
"Just officially turned 6 years sober," she wrote. "So grateful for another year of joy, health, and happiness. It IS possible."
Right on, Demi! The "Sorry Not Sorry" singer then added another tweet the following morning:
"Today is a very special day for me," she tweeted. "I'm officially celebrating 6 years of sobriety!! I'm so thankful to my family, friends, and @castcenters for being a part of this journey. A huge part of my recovery was learning to love myself and to give back to others."
I'm so glad Demi figured out how to dig deep, stay healthy, and live her best life. Her fans on Twitter are loving her honesty as well, and several of them couldn't wait to throw their applause and support her way.
Even Ellen DeGeneres rolled up to chime in:
So sweet, right? Meanwhile, Demi will open up about her past life or death struggles even more — including the fact that she was suicidal when she was just 7 years old, and bullied when she was 12 — when she appears on an upcoming episode of The Dr. Phil Show, set to air on March 20.
"At the rate that I was using and drinking, I wasn't going to live a long life," she explains in a clip obtained by Popsugar. "I turned to cutting. Every time I cut, it got deeper and deeper."
Watch:
Obviously, Demi's journey hasn't been an easy one, but the singer is just so resilient and brave. In September 2017, she received the Spirit of Sobriety award at the annual Brent Shapiro Foundation for Drug Prevention Summer Spectacular in Beverly Hills, and she took the opportunity to admit that her sobriety hasn't come easily.
"Every day is a battle," she said. "You just have to take it one day at a time, some days are easier than others and some days you forget about drinking and using, but for me, I work on my physical health, which is important, but my mental health as well. I make it a priority."
So proud of you, girl! Stay strong!