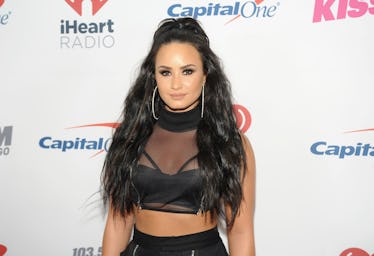 Demi Lovato Clapped Back At A Fan Who Asked Her If She Broke Her Sobriety
Timothy Hiatt/Getty Images Entertainment/Getty Images
When it comes to Demi Lovato's sobriety, she doesn't play around. She's worked incredibly hard to get to where she is today and, if anyone's going to question her about it, she's absolutely going to have something to say... which is exactly what happened when a fan questioned a photo of Lovato with a questionable drink in hand. The 25-year-old singer wasn't just wasn't having it at all and fans are cheering her on for shutting it down. Seriously, Demi Lovato's clapback about her sobriety is so honest and there's a lot about it to respect.
The whole thing started when a photo of singer Hayley Kiyoko with her fellow Disney Channel alum hit the web. The photo shows Lovato, Kiyoko, Matthew Scott Montgomery, and rapper Sirah at a party celebrating Kiyoko's new album.
In the photo, Lovato can be seen holding a drink that many fans presumed was alcohol. In another version of the photo posted by Montgomery, the drink seems to be missing. In reality, it's just shadowed by dark light and the group surrounding her.
But fans became suspicious nonetheless.
Almost immediately, fans jumped on the call-out bandwagon.
"I'm not tryna question Demi's sobriety bc I have a lot of respect for her," one fan said. "It just seems weird that her best friends post this pic with it shaded and then Hayley who isn't rlly that close to Demi posts the one where you can see what she's holding?? Like tf is going on."
Fans demanded Lovato explain her choice of beverage... which she absolutely does not have to do. But being the straightforward and open celeb that she is, Lovato went ahead and explained what she was sipping on that night:
"I don't have to defend anything but it was red bull," Lovato told one fan on Instagram.
What trooper she is for taking the time to respond like this. She's absolutely right in that she does not have to defend anything — whether she was drinking alcohol or not. While sobriety is obviously important to Lovato and her legacy as a celeb, only she herself knows what she's capable of handling or not. It's not for fans or the media to scrutinize her actions to the point where she can't live, make choices for herself, or have fun.
Given her response, I think she deserves a ton of respect for the way she handled the situation. She seems to know herself — and her fans — well enough to know that her words mean something and that her sobriety is important to a lot of people. At the end of the day, Lovato understands that she's a role model for people who are struggling with similar issues, and that it's up to her to disarm them whenever something seems amiss. I genuinely commend her for not backing down and for making sure the world knows who she is and what she's truly about.
It's abundantly clear how important sobriety is to Lovato, as she never shies away from addressing it or confronting rumors head-on. Lovato recently celebrated six years of sobriety which is obviously a huge achievement.
At a show in Brooklyn in March 2018 , Lovato told audiences how much of a difference getting sober has made in her life:
Yesterday, six years ago, I was drinking vodka out of a Sprite bottle at nine in the morning, throwing up in the car and I just remember thinking, 'This is no longer cute. This is no longer fun. And I'm just like my dad.' So I made changes in my life.
And she's doing really, really well! Fans should remember that people like Lovato are ultimately human and, sometimes, we just need to trust them when they show us time and time again (as Lovato has done) who they truly are. In this case, it seems Lovato is genuine in making sobriety a top priority.