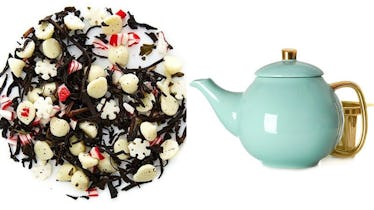 The Best Holiday Teas To Sip Throughout Winter If You Can't Get Enough Of The Cozy Vibes
Come Friday, Dec. 21, a change of seasons will be upon us, friends, which means a shift in seasonal flavors is in order. As much as I love PSL-flavored everything come autumn, to me, there's nothing quite like the cozy winter delicacies, like peppermint and gingerbread, that smell and taste like the holidays. And if you love all things merry and bright, too, you might want to mull over your current tea stash as you start rearranging your spice drawers and snack cabinets for winter 2019, because DAVIDsTEA's 2018 Holiday Collection has arrived, and the festive flavors basically embody Christmahanakwanzika in a mug.
Though autumn is by far my favorite season of all, Christmastime comes at a close second, and I truly believe that's because my parents always made the holidays feel extravagant. It's unfortunate that the most wonderful time of the year only comes around once every trip around the sun, but the holiday spirit is something you and I can sustain within our hearts year-round.
And yes, I do realize how incredibly corny that sounds, but if you, like me, feel as if you're living your best life between Thanksgiving and New Year's Day, then why not find ways to keep the good vibes going throughout the rest of the year?
I'm not saying tea will solve all of your back-to-the-real-world woes after the holidays — trust me, I know damn well that easing back into things after the new year is never easy — but I'm also a firm believer in the notion that sipping the right cup of tea can make any task feel more doable.
Instead of searching for a present that's trendy and, let's be real, probably way too expensive, why not go with a gift that's good for the mind, body, soul, and tastebuds? Here are a few ideas from DAVIDsTEA's 2018 Holiday Collection to add to your shopping list.