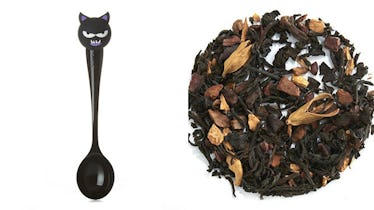 This Halloween Tea Collection Is The Perfect Way To Welcome Fall & The Spooky Season
Autumn may be considered PSL season, but let's not forget that, while coffee is fabulous in its own right, nothing can surpass the warm, cozy feels of a mug full of tea on a brisk fall morning, afternoon, or night. OK, so I'm biased; I've always been more of a tea drinker myself, but DAVIDsTEA's Halloween Collection might be the next best thing to trick-or-treating as an adult. Fair warning: Once you feast your eyes on these decadently brewed treats and teaware, you might just spend what would have been your candy budget on bags of tea leaves and stainless steel mugs. Sorry not sorry to all the kiddies; there's always next year to dole out Snickers bars and little baggies of M&M's, right?
I don't know about you, but I love Halloween almost as much as I love Christmas. Maybe it's because I was born four days before the actual holiday, or perhaps it's because I thoroughly enjoy being freaked TF out. Or it could be due to the fact that I'm just obnoxiously obsessed with anything made with, from, or dipped in chocolate. Regardless, Halloween plus autumn equals everything in my eyes, and I have yet to find a moment less satisfyingly seasonal than wrapping myself in an oversized cardigan, flipping through the pages of Harry Potter, and sipping a piping hot mug full of tea.
Though, I'll admit, it wasn't until recently that I started really enjoying flavored teas (I was raised on traditional black Lipton). DAVIDsTEA is really what inspired me to expand my taste buds and experiment with different brews. But guys, DAVIDsTEA's Halloween Collection is frighteningly good, infusing all of your favorite fall flavors and Halloween treats — from pumpkin to chocolate to chai — into each mug-full. The brand is also showcasing a few teaware accessories that you'll definitely want to get your hands on. Because, really, what's a bag of tea leaves without a pretty (large) mug to brew them in? Check out the limited edition autumnal specials below.