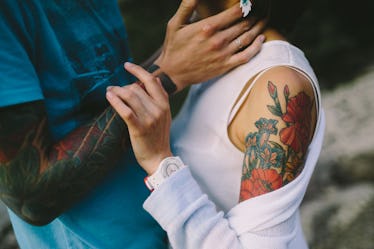 This Is What It's Like To Date Someone Way Older Than You, As Told By 6 People
Dating someone older than you can teach you a lot about life. It can help you better understand what it's like to be a certain age, gain perspective on the current phase you're in, or realize that you actually don't like a large age gap when it comes to relationships. There's a lot to consider about dating someone who's older than you are, because your relationship may need some added communication to bridge the age gap. In case you were curious, here are six different perspectives from people who have experienced dating someone older.
Dating someone older taught me a ton about myself and what I want in a relationship. Don't get me wrong, I definitely got my heart low-key broken. But it also taught me a lot about how adulthood shifts and changes between your 20s and 30s. She was also, like, really great at sex and part of that was simply the fact that she had way more experience than me. It didn't end up working out but I am definitely grateful for what I learned along the way. To get more insight into what it's like to date with an age gap, check out the following following stories.