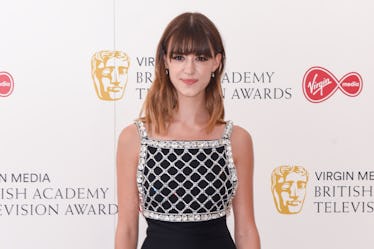 Daisy Edgar-Jones Will Reportedly Star In The 'Where The Crawdads Sing' Movie
David M. Benett/Getty Images Entertainment/Getty Images
Normal People fans, your time has officially come. Daisy Edgar-Jones is set to star in the upcoming film adaption of Where the Crawdads Sing. The film is being produced by Reese Witherspoon's production company, Hello Sunshine, with a screenplay by Oscar-nominated writer, Lucy Alibar. Even more excitingly (if that's possible), Edgar-Jones is slated to play Kye, the lead in the popular coming-of-age mystery. Daisy Edgar-Jones' team confirmed the reports of this casting news to Elite Daily.
Written by Delia Owens, the popular novel was first released in 2018 and quickly became a book club favorite. It topped The New York Times Fiction Best Sellers list for over 30 non-consecutive weeks in 2019 and 2020. The story follows Kye (Edgar-Jones), a beautiful young woman who grows up alone just outside a small town in the South during the 1960s. When Kye's ex is found dead, she's quickly deemed a suspect and her once-quiet life becomes full of questions and heartbreak.
Since the story is beloved by many, it takes a talented adaptor to do it justice, and luckily Witherspoon's company looks to be the perfect fit. Hello Sunshine transformed other literary hits including Big Little Lies, Little Fires Everywhere, and Gone Girl into on-screen smashes.
While fans love the novel, they're also quite smitten with Edgar-Jones. Viewers know her best as Marianne Sheridan, the lead in Hulu's hit drama Normal People. The series follows Marianne and Connell (Paul Mescal), a pair of teenage-turned-adult lovers who explore their bond and grow together emotionally and ~sensually.~ While Mescal was nominated for a 2020 Emmy for his role, fans were outraged Edgar-Jones was not.
Luckily, considering the huge success of the source material, there's a chance Edgar-Jones' participation in the movie, especially in the starring role, could be what gets her the awards recognition fans want for her. Regardless, with Witherspoon's team at the helm, you know it's going to be an epic on-screen adaption.
The Where the Crawdads Sing film adaptation does not yet have a release date.