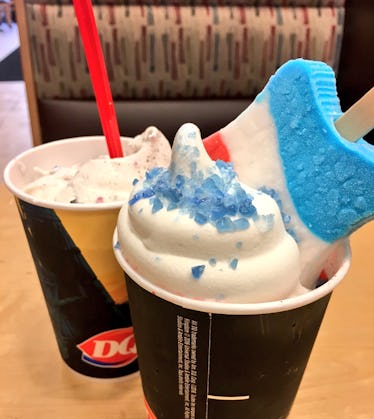 Dairy Queen Has A Star-Spangled Blizzard For The Fourth Of July
One of your favorite fast food chains is making it extra sweet to show off your patriotism this Independence Day, and I'm so here for it. Dairy Queen's Fourth of July Blizzards come in red, white, and blue, and they're the festive treats you'll need to cool off with when you're watching the fireworks and celebrating 'Murica on Wednesday. Get ready to stock up, because the Star-Spangled Blizzard and the Oreo Firework Blizzard sound so refreshing.
On July 2, the chain revealed via Twitter and Instagram that two new Blizzards are coming to a DQ location near you just in time for the national holiday, and they look so patriotic. According to Delish, the Star-Spangled Blizzard — which is crowned with a red, white, and blue Stars & Stripes StarKiss Frozen Treat on top — will make sure you're living your best, most patriotic, life this July 4 with generous layers of blue rock candy and swirls of vanilla soft serve. Yum. While the actual confection is red, it's finished off with a dollop of white vanilla soft serve and the striped popsicle on top. If this sounds like the perfect way to show off your patriotism on the 'Gram (because this has to be the most photogenic Blizzard I've ever seen), hurry over to your local DQ because the Star-Spangled Blizzard is only available "while supplies last." I mean, what better way is there to celebrate America's birthday than with a sugar high, am I right?
While these bad boys are only around for a limited time, Dairy Queen's month-long consolation prize sounds even more delicious, in my opinion. DQ's brand new Oreo Firework Blizzard has been named the July Blizzard Treat of the Month, and it's the ultimate treat for Oreo lovers.
Whether you're team chocolate biscuit or team icing, there's no denying that Oreos are one of the best cookies around. It's literally too easy to inhale a sleeve of the wafers without even thinking about it.
Plus, Dairy Queen already has a track record of killing the Oreo Blizzard game. Last October's Oreo Hot Cocoa Blizzard proved that 'tis always the season for the festive sips, which is basically the stuff of Oreo dreams. The concoction blended DQ's vanilla soft serve with generous chunks of Oreo and layers of cocoa fudge, and it was completely delicious. The Oreo Firework Blizzard has the same idea, starting with a base of vanilla soft-serve with generous helpings of Oreo wafers and red and blue popping candy. Plus it's available for just $5.
If you're still on the fence, don't just take my word for it.
While the Oreo concoction has only been out for a few hours, the Twitterverse is already showering July's Blizzard Treat of the Month with some serious praise. Plus, the Star-Spangled Blizzard only comes in the mini-size, according to Delish, so you have the perfect excuse to try both delicious concoctions the next time you head to your Dairy Queen drive-thru.
In a press release, Maria Hokanson, American Dairy Queen Corporation's executive vice president of marketing, added her own commendations. "The Star Spangled Blizzard Treat has the 'wow' factor," she wrote. "It's fun, it looks completely different than anything else on our menu, plus it's delicious and picture perfect. But it won't be here for long so if fans want to experience our most American treat ever, they should come in now."
Now that DQ has hands-down nailed the Oreo Blizzard, could Oreo's five new flavors be making their way into the chain's popular sweet treats anytime soon? A Strawberry Shortcake Oreo Blizzard has a nice ring to it.