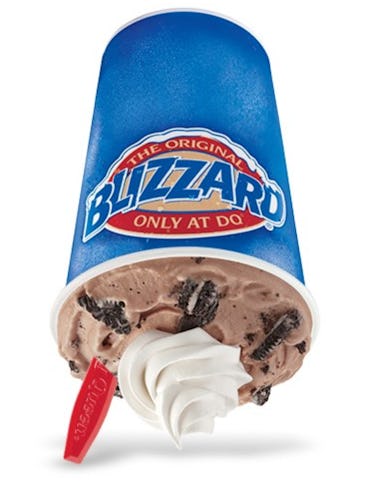 Dairy Queen's New Holiday Blizzard Is So Chocolatey It'll Make You Forget About Halloween
Finish that candy corn quickly because Christmas is right around the corner and your spooky spirit is no longer required. There's no time to waste between one holiday and the next, and fast-food chains are making sure to optimize their festive menus to the fullest. Just take a look at DQ! Dairy Queen's Oreo Hot Cocoa Blizzard is here and it'll definitely make All Hallow's Eve a distant memory... very quickly after its close.
Beginning in November, the chain will get in full-on holiday mode with its offerings. The brand-spankin' new Oreo Hot Cocoa Blizzard is a perfect treat to enjoy while decorating the tree, wrapping gifts... or finishing the last of your trick-or-treat stash, since its debut aligns so closely with the scariest day of the year. It does seem as though the holidays are bunched right on top of one another, leaving little breathing room in the process, but just think of all the fantastic sweets you're entitled to in such a short amount of time. It's nothing short of a holiday miracle.
The Oreo Hot Cocoa Blizzard is chock full of pieces of milk's favorite cookie and cocoa fudge blended with creamy DQ vanilla soft serve. Santa will probably request one of these bad boys in lieu of your annual chocolate chips, and you can't blame him. I'd totally endure a night traveling around the world in the cold for a taste of one of these.
Have a look at the Oreo Hot Cocoa Blizzard and try not to tell me it's more inviting than mistletoe.
After ordering what is destined to become a new favorite, it's time to start thinking about seconds (Santa would). The ever-popular Candy Cane Chill Blizzard — complete with peppermint candy cane pieces and choco chunks swirled in soft serve — will also reemerge this November to get you as jolly as good 'ol Saint Nick.
Though the holidays come equipped with delicious snacks, they're definitely no stranger to stress. Between booking tickets and traveling to be with family, picking out the perfect gift, wrapping up last-minute details at work, and so on, you're totally stressed out. There are options — aside from DQ blizzards — that'll totally calm you during the holiday season.
First thing's first: Take a deep breath. You are going to make it through this busy season one Oreo Hot Cocoa Blizzard at the time. However, if you're in need of other ways to find your zen, have a look at some bath bombs from Lush or your other favorite beauty store. This will ensure you make time for yourself to destress. Need to make your space feel welcoming? Go find themed candles to get you in the spirit and remind you what the holiday is really all about: enjoyment.
Since we're on the subject of enjoyable things, that obviously includes food, and let's be honest: You're going to have a ton of sweet stuff. Fortunately, there are ways to detox during the holidays while still finding time to munch on dessert — a win-win for everyone. Give hatha yoga a shot or simply change your posture. A strong, confident pose can affect your decision-making and even influence your thinking. Interesting, huh?
So now that you've binged on every horror movie out there and participated in all-things related to fall, it's time to prep for the big leagues: the holidays. Let's get the ball rolling with a sip of one of these DQ Blizzards. After all, 'tis the season to be jolly.
Check out the entire Gen Why series and other videos on Facebook and the Bustle app across Apple TV, Roku, and Amazon Fire TV.