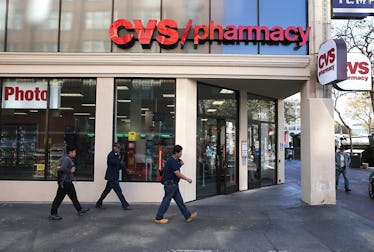 CVS' Black Friday Sales Will Make It Easy To Refresh Your Makeup Bag
Justin Sullivan/Getty Images News/Getty Images
Don't at me on this, but sometimes drugstore finds are simply better than hitting up the fancy beauty counter. For example, Instagram can try to sell me all the fancy $25 mascara they'd like, but when it comes down to it, if you know what brush shape works for your lashes, you can get your desired look for around $8 from your local CVS. My eyelashes are, personally, one of my most prized possessions, and I love layering on Rimmel's ScandalEyes mascara to get my peepers poppin' for the holidays. If you don't want to head out to the big department stores for Black Friday, CVS' 2018 Black Friday sales will help you save money while avoiding the chaos of big box stores post-turkey day.
CVS' Black Friday sales work a bit differently than most stores. In order to secure the deals, make sure you're registered for your Extra Care card points. If you've been to a CVS at any time over the last year, you likely already have one (it's that card they ask you for at checkout). Some Black Friday deals give you steep discounts, while others let you rack up real cash to use later, in the form of ExtraBucks rewards. It's basically like a cash incentive to come back and shop later, which might honestly be a great idea if you want to get in and get out as fast as possible so you can get back to your leftovers. Take a look at some of the best beauty deals at CVS this year.
Designer Fragrance Gift Sets For $12.99
Drugstores are perfect for finding pre-packaged gift sets for last-minute presents. During this year's Black Friday sale, CVS is offering select fragrance gift sets for just $12.99. Brands include Vera Wang, JLO, David Beckham, Beyoncé, and more.
Buy 1 L.A. Colors Gift Set ($4.99), Get $4 In ExtraBucks Rewards
Anyone need a mani refresh for just $.99? Basically, if you buy one of these sets that includes nine bottles of polish at $4.99, you get $4 in ExtraBucks instantly. Gift now, shop for your essentials down the line, later. It's a win-win.
Physicians Formula Lip Kits ($14.99), Get $10 In ExtraBucks Rewards
It's the same deal with Physicians Formula lip kit sets. Buy one at $14.99 and get $10 in ExtraBucks instantly. That's like giving your bestie 14 new lip colors for just five bucks! Or, if you're shopping for yourself, test out one color for every holiday party you hit up this year.
NYX Lip Color Or Gloss Buy Two For $11.98, Get $10 In ExtraBucks
Stock up on your favorite shades with this two-fer deal, and come back later to spend your $10 in cold hard CVS cash. In my opinion, NYX is one of the best drugstore brands out there. There are so many color options and the lipsticks have a comfortable matte finish that's not too drying.
Wet n Wild Holiday Gift Sets ($9.99), Get $8 In ExtraBucks Rewards
Stock up on all of your favorites for one lump sum, and get paid to shop again on your next visit. This is one of the best beauty deals at CVS this Black Friday, so make sure to check out your makeup bag before hand to see what needs a refresh just in time for the new year.
23andMe Genetic DNA Starter Kit ($29.99), Get $29.99 In ExtraBucks Rewards
This isn't a beauty sale per se, but I thought it was fun enough to include. The holidays are the perfect time to give someone something they've been wanting, but haven't gotten around to getting. DNA tests are so interesting and can be a great conversation filler or gift for the second cousin you barely know.
CVS is a great store to stop by to still get in on the Black Friday action without having to set up shop overnight to be the first person in line. Pop by with your family when you're out of things to do, or check out the sales when you run in to get some extra ice cream to go with your pie leftovers. Either way, there are some great deals this year, so it's worth checking out. Happy shopping!