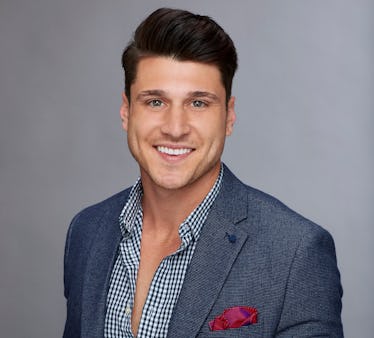 Connor Is Going To 'Paradise' & 'Bachelorette' Fans Are Rejoicing
ABC
It isn't Bachelor in Paradise without an extremely random and nearly mute Bachelorette contestant hitting the Mexican beach for more screen time. Bachelorette Season 14's Connor Obrochta was one of those easily forgettable contestants after he faded into the background following his wedding photo snafu with Lincoln, but perhaps the fact that he's mostly a mystery to us will work in his favor this year on Season 5 of Paradise. Connor is officially going to Paradise, and since he developed into a harmless pretty face as Becca Kufrin's season progressed, Bachelorette fans are pumped.
If I had to pick a foreshadowing moment in Episode 6 that essentially confirmed Connor's elimination from Bachelorette, it would be fellow contestant Chris Randone seemingly being unable to place Connor's face. Becca name-dropped Connor when she confronted Chris about his alleged verbally abusive behavior, and like several Bachelor Nation members, Chris appeared genuinely uncertain about which man Connor was. Same, bro.
OK, so Chris was probably just trying to avoid her question, but Connor being drawn into such an intense situation was a definite case of "wait, who?". The 25-year-old fitness coach caused a stir earlier this season when he tossed away a framed photo of Becca and Lincoln, but after he apologized for that, his airtime significantly dropped, although fans did love it when Connor wore his glasses and basically became Superman's alter ego. Like a hero on a new mission, he left at the end of Episode 6 after Becca eliminated him in the rose ceremony.
When the Bachelor in Paradise Twitter account confirmed his spot on the show alongside Chris, the prospect of "one good guy for a bad guy" seemed to earn Connor his own pedestal among Bachelor Nation.
Apart from retweeting the news that he's joining Paradise, Connor has yet to mention his upcoming TV journey on social media, but he did post a message after his elimination aired in which he wished Becca the best.
Before we knew about his elimination, Connor popped up in the press when he spoke out about Lincoln being convicted of indecent assault and battery. Talking to TMZ, he revealed that interacting with Lincoln always left him unsettled, saying:
I tried to stay away from him as much as possible… just because he was somebody I didn't vibe with and somebody I just couldn't get a read on. Normally I have a pretty good judgment of character, and he was the one guy out of all 28 that just rubbed me the wrong way... It makes me feel uncomfortable that he did lie. Being who Lincoln is — he's a big, buff guy, a lot of emotions here and there, very unpredictable — and now, knowing this, it makes me feel a little bit more uncomfortable.
Connor also seemingly clashed with Chris when Becca told the latter that Connor was afraid to room with him. Connor was clueless about such a scenario when Chris brought it up to him, leading to Lincoln's confession that he alluded about Connor's issues with Chris to Becca. Yes, it was super confusing, and I hope that drama doesn't follow Connor and Chris to Paradise.
The two men join a cast that also includes Season 14 vets such as David Ravitz, Jordan Kimball, John Graham, and everyone's favorite Night One castoff, Grocery Store Joe. The men will face the possibility of romance with Bachelor ladies such as Season 22's Bibiana Julian, Kendall Long, and Tia Booth. Contestants from older seasons include former Bachelorette Rachel Lindsay's men Eric Bigger and Kenny Layne and Bachelor Season 21 star Astrid Loch. Given how many of Becca's men are drama queens, I'm hoping that Connor will form a low-key clique with Kenny and any other quiet men from his own Bachelorette season.
Season 5 of Bachelor in Paradise premieres on Tuesday, Aug. 7, at 8 p.m. ET on ABC.