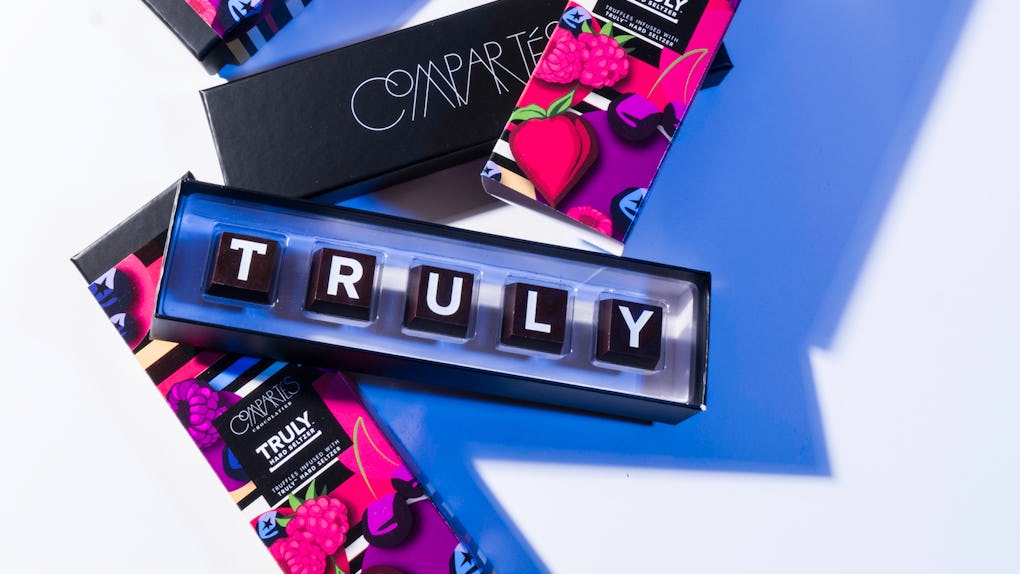 Courtesy of Truly and Compartes
Compartes' Truly Hard Seltzer-Infused Chocolates Are A Festive New Treat
There's a boozy new treat that's here just in time for the holidays. Truly Hard Seltzer and premium chocolatier Compartes are launching a new line of spiked chocolates, and it's about to take your chocolate obsession to the next level. It sounds like the perfect holiday treat for anyone who has been on-board the hard seltzer trend and loves chocolate. Here's how you can spread the cheer this season with Compartes' Truly Hard Seltzer-infused chocolates.
Truly Hard Seltzer is collaborating with Los Angeles chocolatier Compartes to release new hard seltzer-infused truffles. The Truly Hard Seltzer x Compartes Groument Chocolate Truffles Gift Box features five unique truffles that have a chocolate exterior and white letters that spell out "Truly" together. The truffles are each infused with a hard seltzer from Truly's Berry Mix Pack, so you can expect a boozy kick with each bite. In the gift box, you'll find two Truly Wild Berry-infused truffles, one Truly Black Cherry-infused truffle, one Truly Blueberry & Acai-infused truffle, and one Truly Raspberry Lime-infused truffle.
With the holidays just around the corner, the chocolate truffle set is the perfect gift for friends and family (or a special treat for yourself). You can enjoy the ganaches on their own or paired with your favorite Truly Hard Seltzer.
If you're ready to get your hands on a box of the hard seltzer-infused truffles, simply head to Compartes' website where you can order the product for delivery. A set of the chocolates will cost you $19.95. If you're sending the treats as a gift, you can also add a special black gift ribbon to the box for only $1.95.
This isn't the first time that Truly Hard Seltzer has collaborated with a popular brand to give fans a spiked treat. Truly and Hard Scoop launched a seltzer-infused ice cream variety pack in June, and it's available now online for purchase. The Truly Lemonade Ice Cream + Sorbet Variety Pack ($49) comes with one pint of Truly Orignal Lemonade Ice Cream, one pint of Truly Strawberry Lemonade Sorbet, and two pints of Truly Black Cherry Lemonade Ice Cream.
With plenty of booze-infused treats from Truly to try out, there's no doubt the holidays are looking extra sweet this year.