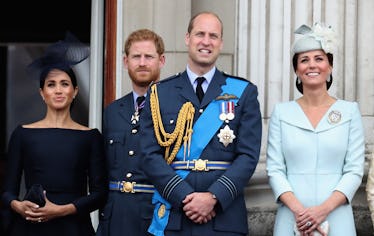 A Comparison Of Harry & Meghan's Monogram To Will & Kate's Shows How Fast Tradition Changes
Chris Jackson/Getty Images Entertainment/Getty Images
Ah, to be royal. Not only do you get jewels, crowns, titles, and extravagant parades, but you also get a classy monogram to top it all off. Being a member of the royal family certainly has its perks. I mean, how awesome would it be to have your own personalized monogram to put at the top of all the important letters you send? Granted, it's not the most practical, but still — it's awesome. But since Prince William and Kate Middleton tied the knot seven years ago, things have changed! Truly, comparing Harry and Meghan's monogram to Will and Kate's proves that love will always win, but also, that royal protocal has certainly changed since 2011.
Now, along with about a billion other things, getting a joint monogram for your wedding day is a super sweet royal family tradition. Typically, whoever is marrying into the royal family will get their own solo monogram before the big day, and so, the joint monogram is exactly what it sounds like: a combination of each spouse's individual monogram.
Meghan's monogram, for instance, was revealed in May shortly after her wedding to Prince Harry. It was simple, elegant, and perfectly suited to the humanitarian and former actress.
But now, more recently, Harry and Meghan's joint monogram was revealed, and it's certainly different than Prince William and Middleton's own cypher. Obviously, it makes sense that Prince Harry and Markle's joint monogram would be a bit more modern, but that's not the only difference.
As you can tell above, the couple's monogram is a clever mashup of Harry and Meghan's first initials, H and M. A coronet featuring several fleurs-de-lys and a Christian cross tops it all off. Basically, it's clean and modern, and definitely romantic in a way, too. By combining both Harry and Meghan's initials, the monogram implies that the married couple is now forever intertwined, which is just seriously sweet.
Additionally, Vanity Fair reports that the monogram is printed in royal blue ink as a nod to Prince Harry's late mother, Princess Diana, who loved the color. Now, seeing how modern and romantic this monogram is, let's take a look back at Prince William and Kate's joint monogram, because it's certainly different.
The thing is, though, while this monogram on their cake isn't the only joint monogram that's been reported for Will and Kate, it's certainly the most ornate. On their wedding cake, their joint monogram was done in white icing, and their initials are intertwined and topped with a very similar coronet to Harry and Meghan's.
Looking at the differences, though, Will and Kate's monogram is certainly more ornate. The cursive is more detailed, and the C and the W are both clearly seen. Additionally, the coronet is a bit ~fancier~ than Harry and Meghan's. But, according to Harper's Bazaar, the parents of three have also used a different monogram than the one on their cake, featuring a simpler design of Kate's C (for Catherine, ICYMI) initial placed above her husband's W.
The fact that these two joint monograms would be different isn't exactly too shocking. Harry and Meghan have done a lot of things differently than the older royal couple, starting with a much simpler wedding, and even engaging in some royal PDA. Of course, both monograms are gorgeous, and honestly, I kind of want one now. And I want it everywhere. Stationary, jewelry, shoes, socks — monogram me up.
Check out the "Best of Elite Daily" stream in the Bustle App for more stories just like this!