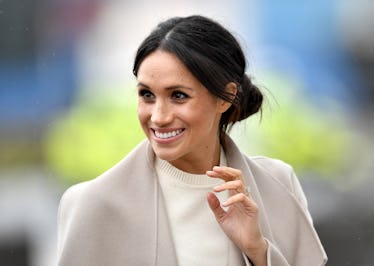 Clues About How Meghan Markle Leaves 'Suits' Have Been Revealed & I Can't Handle It
Charles McQuillan/Getty Images Entertainment/Getty Images
We have less than two weeks until Meghan Markle's time as an actress officially ends and her character exits Suits on April 25's Season 7 finale. Both she and co-star Patrick J. Adams have wrapped their work on the USA Network drama, and in a move of fiction mirroring real life, their characters' upcoming wedding is the means to an end for their time on the show. The details of their exit are still under wraps, but with the onscreen wedding airing only weeks before Markle's real-life wedding with Prince Harry, I'm obsessed with figuring out the truth. Clues about how Meghan Markle leaves Suits have been revealed, and I'm ready to start sleuthing for more.
Suits executive producer and creator Aaron Korsh previously teased how Markle's Rachel and Adams' Mike will leave the series while speaking to TVLine. He dropped major hints that their wedding was the catalyst for their departure, saying:
I wouldn't say it forces you, but when you're getting married, you tend to think about what you want out of life. Where do you want to spend it? How do you want to lead it? There's a particular episode where that comes to the fore with them, and that plays into what's going on with Mike, professionally — and collectively, they make this decision.
Korsh's hint played out onscreen on April 11's Suits episode, "Inevitable," in which Rachel and Mike finally discussed their future plans. Thanks to photos, we know that a wedding ceremony will definitely at least begin (maybe Markle will get a Runaway Bride situation out of her system on Suits?), but it seems that fans theorizing about Mike and Rachel's exit should be more focused on the couple's post-wedding plans.
In the last few minutes of "Inevitable," Mike and Rachel discussed their plans for after their wedding. According to Mike, his wish was for them to move to San Diego and run a clinic together. As for Rachel, she envisioned moving to Iceland and staying there for a year. Either way, it sounds like they're leaving their New York City law firm for a brand new start elsewhere.
Of course, it took Mike a while to arrive at that idea. Earlier in the episode, he and Rachel visited their priest to fill out forms about their future lives together. Mike struggled in writing down answers and committing to what was written, telling Rachel:
I didn't fill it out because I can't answer questions about the future because I don't know what I want. I'm not a planner... All I'm saying is why can't we live our lives for a while and see what happens?
So, if San Diego or Iceland doesn't play out, Mike and Rachel could always resort to globetrotting, à la the responsibilities of Markle's new life as a member of the British royal family. Regardless of where the couple goes, the new journey ought to be a satisfying end to Mike and Rachel's story and a sweet sendoff for Markle and Adams.
More than three weeks after Suits concludes, we'll finally know if any of Markle's former co-stars will show up as guests at the royal wedding on May 19. It'd be a little devastating if none of them were there, but Markle has Adams' support even if he's a no-show at the wedding. Speaking to Entertainment Tonight, Adams revealed how bittersweet filming the Suits wedding was:
I know it was one of the most surreal days ever. Meghan and I have been so close from the beginning of the show, so to finally get to that moment was really great. And to have the rest of the cast there and supporting and I think we shot – I think the only tease is that we were shooting it until about seven in the morning. So if you see some bleary-eyed people, that's probably why.
I'll have my tissues ready for the April 25 finale. Forget crying at the royal wedding - fictional weddings are truly what spur on my tears.
Suits airs on Wednesdays at 9 p.m. ET on USA Network.