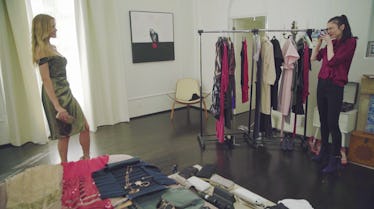 "Click My Closet" Lets You Sit In On Celebrity Styling Sessions & Shop Every Look
Rogers & Cowan
If you've ever wished there was a way to see exactly what was in your favorite style icon's closet, you're about to be over-the-moon. Rogers & Cowan are launching a new digital series called "Click My Closet" that will let you do just that, with each of its episodes taking you into the home and wardrobe of a different fashionable celebrity. You'll follow along as their trusted stylist helps them pick out a look from their existing wardrobe for an event they have coming up, acting as a fly on the wall to all of the undoubtedly stellar sartorial advice that will be dished out. The best part? Each episode will be shoppable, meaning paparazzi-worthy style has never been easier to achieve.
As explained by Rogers & Cowan CEO Mark Owens to WWD, "If you think about the role of a publicist, whether we're working with Brie Larson or Allison Williams, we're with them all day long, and we're with them when they're with their stylists. We were privy to that relationship and we were privy to that behind-the-scenes content, so I like to say that we're bringing what was happening behind the camera in front, out to the viewer." An insider's look into how the biggest names in Hollywood are dressed? Count me in.
The series' first four episodes launch tomorrow, with each featuring a five-minute styling session between a star and their trusted fashion confidante. You'll be able to catch Ashley Greene with Christina Erlich (she's also worked with Brie Larson, Margot Robbie, and Anna Kendrick, among others); Jamie King with Annie Ladino (she once styled Meghan Markle); Petra Nemcov with Joanne Black (Goldie Hawn has enlisted her skills) and Cherly Burke with Karen Raphel. And while it's still a secret as to what events they'll each be picking out outfits for, they could range from a casual brunch to a night out with friends to a red hot date night. Literally anything is fair game.
"Ultimately talent has a direct relationship with their fan base nowadays — they're talking to them through social media 24/7. But nobody has ever taken a look at the real special relationship that talent has with their stylists, and how they come to a style together," Owens told WWD. "Cristina Ehrlich was Ashley Greene's stylist, they've worked together since the Met Gala and 'Twilight' seven years ago. [The show looks at] how have they developed the relationship so that when she's going to Coachella, where she's traveling, or if she has an appearance on [James] Corden or [Jimmy] Kimmel, how does that come together? And we thought that would make really compelling content."
I couldn't agree more. Seeing how two creatives come together to create looks that speak to their wearer but also push boundaries has always intrigued me. But somehow, that's not even the best part of this whole thing.
Every item that is selected, be it a short, dress, shoe, or piece of jewelry, will be immediately shoppable on the site and accessible to buy via, you guessed it, the simple click of a mouse. Pretty cool, right? Seeing as the wardrobes featured within the videos will contain each celebrities' actual collection of clothing, prices will range from luxury to accessible — but half the fun will be seeing who owns which designer pieces, at least in my opinion.
Catch the first four episodes at clickmycloset.com tomorrow and be sure to keep an eye out for the release of future clips. Starting in June, a new one will be released every week, meaning one of your favorite stars is bound to make an appearance at some point.