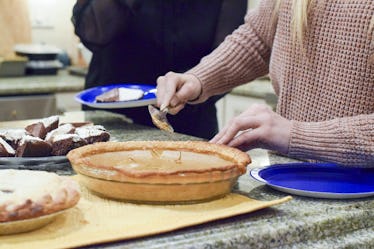 Whip Up This Clear Pumpkin Pie Recipe If You Want To Be The Most Awkward One At Friendsgiving
November is upon us, which means it's time to turn in our ghoulish garb, pick through leftover Halloween candy, and start focusing on what really matters during the holiday season: food. We give thanks around a table set buffet-style for a reason, friends — because we're all thankful for gravy, mashed potatoes, and pumpkin pie. Turkey Day traditions are getting a tad topsy-turvy, though, as social media is blowing up over a clear pumpkin pie, because it's 2017, and the world has officially gone mad.
To be honest, when I first came across chef Simon Davies' photo of his miniature pumpkin creation, I was sort of banking on it to spiral out of control into another "what color is this dress" scenario. It's as though someone borrowed Harry Potter's invisibility cloak, tossed it over a vibrantly orange pumpkin pie, added a dollop of whipped cream, and uploaded the final product to Instagram. Then I realized this wasn't some made-for-internet optical illusion, but an actual recipe.
Now, normally, I'm a stickler for tradition, and I like to have everything just so, especially when it comes to the holiday season. I expect Thanksgiving dessert to include fresh slices of bright orange pie balanced over flaky crust and topped with either whipped cream or a single scoop of vanilla ice cream. But perhaps I'll make an exception this year for a piece of "distillation of pumpkin pie" prepared by Executive Chef Mike Bagale and Chef de Cuisine Simon Davies at Alinea, a Chicago restaurant.
So what, exactly, is a clear pumpkin pie?
Contrary to my initial assumption, clear pumpkin pie is not a magic trick, nor is it a practical joke.
The clear pumpkin pie is a translucent slice of holiday heaven, presented, as Vogue described it, as a "distillation of pumpkin pie set in gelatin." I'm not sure whether this particular description makes me want to stick a fork in it, or display it as festive décor.
The not-so traditional dessert was constructed as an additive to Alinea's award-winning menu, and debuted on social media sometime in early September. Now that Halloween has come and gone, the clear pumpkin pie has come to everyone's attention. But the fact that something like this was overlooked at all is astounding.
According to the restaurant's official website, the term "Alinea" is defined as "the beginning of a new train of thought." Personally, I think it's safe to say a clear pumpkin pie is on point with the eatery's mission to serve progressive food offerings, don't you?
Bagale told Vogue,
I wanted to do a distillation of pumpkin pie because it's very technical and thought-provoking. I wasn't sure how I wanted to serve the distillation, and Simon suggested setting it in a pie crust.
What's cool about the dish is the juxtaposition between modern technique coupled with very classic technique, and when you taste it you get to appreciate the qualities of both.
One thing's for sure: This is definitely not your grandmother's pumpkin pie.
And you better believe Twitter has some feelings about Alinea's spin on the holiday staple.
Alinea basically went from 100 to zero real quick with its interpretation of what its chefs apparently think true pumpkin-obsessed peeps are craving. Taste is the priority, obviously, but clearly the warm, burnt-orange coloring of pumpkin pie is also important.
Aesthetic is everything, and even though the concept of clear pumpkin pie is intriguing AF, maybe the world's not ready to forgo tradition just yet.
But just in case you want to plate your own clear pumpkin pie for Thanksgiving, the recipe is readily available.
Thanksgiving, Friendsgiving — however you observe the holiday dedicated to grateful hearts and full stomachs, you're most likely going into the celebration potluck style. Instead of contributing by picking up any remnants lying around the bakery on your way over, impress (or confuse) your squad with this clear pumpkin pie recipe.
Fair warning, though, making baked goods turn transparent is no small feat. It's no magic trick, but there's definitely manual labor involved. From what I can tell, you can definitely get away with either a traditional or store-bought pie crust, but the distillation process of the actual filling is where things get a little more complicated.
Bagale and Davies' pie filling recipe calls for cooked pumpkin, ginger powder, ground cinnamon, ground clove, sweetened condensed milk, sugar, salt, and gelatin sheets. The distilling magic happens via a rotary evaporator (aka a fancy tool to extract low boiling organic chemicals from the mixture — got one of those on hand?).
Once you can check that off the list and have added sugar and salt to taste, mold the gelatin into the base while it's cold before transferring everything to a mixing bowl over hot water to melt. Then pour into a bowl or individual tart shells and refrigerate.
You're basically pulling a major Martha Stewart here, but the Insta-stardom might be well worth the effort.
So, what do you think? Are you as shook as the rest of us?