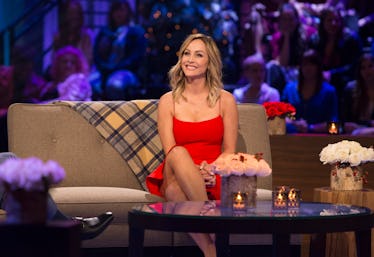 Clare Crawley's Zodiac Sign Says She's An Intellectual, Gentle Partner
Paul Hebert/Walt Disney Television/Getty Images
It may have come as a surprise to Bachelor fans everywhere when Clare Crawley was announced as Season 16's Bachelorette. In case you forgot about the effervescent hairstylist, she was the runner up on Juan Pablo Galavis' season who made an epic exit speech that became one of the most iconic moments in the franchise's history. With Crawley's journey to find love set to premiere on May 18, it's time to find out more about the leading lady. For starters, Clare Crawley's zodiac sign is Pisces (her birthday is March 20), and TBH, this says so much about her approach to romantic relationships.
As a mutable water sign, Pisces is known for being dreamy and romantic. These compassionate spirit is the most loving of the zodiac, and will often do whatever it takes to make their partner happy. However, because of their eagerness to please others, it's common for Pisces to forget about themselves. According to Astrologer Danny Larkin, this is because Pisces is a mutable sign, meaning they're flexible, adaptable, and sympathetic.
"A Pisces will constantly try to adapt to your mood and emotional state, and then unilaterally decide they must sacrifice their own needs to tend to yours, even when no one asked them to!" Larkin wrote for Vice.
Assuming Crawley is a quintessential Pisces, she's likely a big-hearted softie who believes in love and will do anything for the person she loves. But Pisces can often forget about themselves in the process and hold in everything that's bothering them, until eventually, it just blows up in their face. Whoever she choses will have to make sure they are tending to her needs as much as she tends to theirs.
Pisces is also the most creative sign in the zodiac, making them the perfect person to take on a fun paint-and-sip date, outdoor concert, or virtual museum. Pisces' ideal partner knows how to keep up with them and plan dates that will stimulate their mind and their heart at the same time. They'll also know how to bring Pisces back down to Earth when their rose-colored-glasses approach to life comes crashing down on them when life gets complicated. Pisces' partner should be strong enough to support them, but also, gentle enough to nurture their kind, soft spirit.
Based on Crawley's demeanor on The Bachelor and spin-offs, Bachelor in Paradise and Bachelor Winter Games, she's into deep conversations and it seems she's looking for a partner who can keep up with her energetic communication style. It's going to be interesting to see what personality types Crawley gravitates toward during her season. Here's hoping fifth time's the charm!