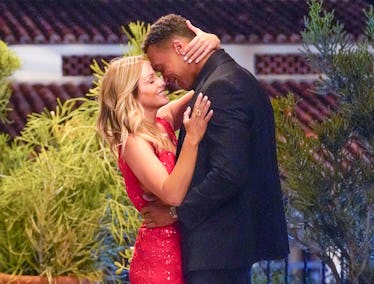 Um, Clare Liked Tweets Blaming 'Bachelorette' Editors For Her Focus On Dale
ABC/Craig Sjodin
If you're a devoted member of Bachelor Nation (and TBH, even if you're not), then you likely know by now why Tayshia Adams replaced Clare Crawley on The Bachelorette. The reason: Dale Moss. But apparently, it's not as simple as that. Just when I thought Season 16 of The Bachelorette couldn't get any more dramatic, Clare Crawley liked tweets blaming Bachelorette editors for making it seem as though Crawley never gave her other suitors a chance. Moss may have always been her frontrunner, but based on her Twitter activity, Crawley implied editing is to blame for all the focus on her relationship with him.
On Oct. 28, a Bachelorette fan tweeted, "I just also think there's a possibility that she is giving the other guys a chance (or at least trying) and we're not seeing it because that wouldn't fit the Dale-obsessed storyline. Although their reactions make it clear that if she's trying, they're not feeling it." Crawley seemed to support the claim by liking the tweet.
Another Oct. 28 tweet liked by Crawley reads, "People saying that @Clare_Crawley is wasting everyone's time without realizing that she's contractually obligated to do so. I would also wager that there are many seasons where the lead talks about their frontrunner just as much, we just don't see it #BacheloretteABC." Sounds plausible to me.
However, ABC executive Robert Mills told a different story. During an Oct. 27 episode of Nick Viall's podcast, The Viall Files, Mills claimed he knew Crawley needed to be replaced the moment she decided not to hand out a rose after the totally-awkward roast group date, where the guys made pointed jokes about Moss. "When she didn't give out that rose and she just gave it to herself, that was it," Mills told Viall. "That was really it, when we started making the call [to replace her]."
Bachelor insider Reality Steve took to Twitter soon after the podcast aired to refuse Mills' claim. "This is flat out untrue," he tweeted alongside a screenshot of the Us Weekly story covering Mills' appearance on The Viall Files. "They are selling you a lie. If you honestly think they didn't make the call to Tayshia until Clare decided not to give that group date rose, her last date of the season by the way, you need to wake up. The timeline doesn't even work in that scenario."
Tayshia, please come save this mess of a season.