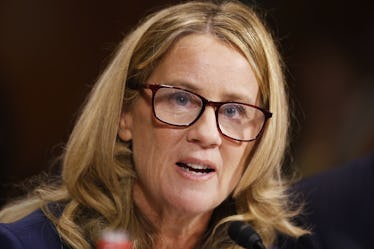 Christine Blasey Ford Shared The Most Moving Promise To Help Trauma Survivors
Pool/Getty Images News/Getty Images
Christine Blasey Ford touched the hearts of people all over when she went public with sexual assault allegations against then-Supreme Court nominee Brett Kavanaugh in September. Kavanaugh vehemently denied the allegations. Elite Daily reached out to representatives of Kavanaugh for further comment at the time, but did not hear back. After Blasey Ford's name was publicly released, the pyschology professor received death threats and public abuse, leading many supporters to donate to a fund meant to help her and her family deal with the uproar. She received hundreds of thousands of dollars with many applauding her bravery and strength in going public. And now, the leftovers from Christine Blasey Ford's GoFundMe will be used to help people just like her, as she announced in a heartfelt message on Nov. 21 that she would be donating the excess to trauma survivors.
The GoFundMe was initially set up in September by supporters on behalf of Ford's family to help pay for her security and housing costs. Since going public with her claims, Ford has faced an onslaught of criticism (including from President Donald Trump), harassment and even death threats. It got so bad that she and her family reportedly had to move out of their house.
The initial goal of the campaign was $150,000, but by the time it ended, it had far exceeded that, raising just under $650,000. On Nov. 21, Ford called the donations a "godsend" in a message on the account while announcing her plans for the excess cash. "With immense gratitude, I am closing this account to further contributions. All funds unused after completion of security expenditures will be donated to organizations that support trauma survivors," Ford wrote.
She continued on to say that she's hopeful that her and her family's lives will return to normal and that she sends her "heartfelt love and support" to her supporters who share "similar life experiences" with her.
She added:
Although coming forward was terrifying, and caused disruption to our lives, I am grateful to have had the opportunity to fulfill my civic duty. Having done so, I am in awe of the many women and men who have written me to share similar life experiences, and now have bravely shared their experience with friends and family, many for the first time.
According to Ford, once she's used what she needs to pay for her security and housing costs, the remainder of the funds "will be donated to organizations that support trauma survivors." It's unclear which ones she'll choose, as she wrote that she's still researching organizations, but Ford wrote that she'll use the GoFundMe page to post updates.
Ford first captured national attention in September, when she alleged that Kavanaugh had assaulted her back in 1982 when they were in high school. The accusations were strongly denied by Kavanaugh, who was in the middle of a nomination process to the Supreme Court at the time. In a statement to CNBC, Kavanaugh said, "This is a completely false allegation. I have never done anything like what the accuser describes—to her or anyone." His representatives did not respond to Elite Daily's request for further comment at the time. Despite her claims and an emotional testimony shared before the Senate Judiciary Committee on Sept. 27, Kavanaugh was confirmed to the court on Oct. 6.
Though it was over for Kavanaugh, the criticism toward Ford has been unwavering. On Oct. 7, her lawyers told NBC News that the backlash has been "unending" and that Ford still wasn't staying at home. "Her family has been through a lot," attorney Debra Katz said. "They are not living at home. It's going to be quite some time before they're able to live at home."
"The threats have been unending," she added. "It's deplorable. It's been very frightening."
It's been a wild ride, to say the least. But on the bright side, Ford seems to be remaining optimistic about it all, and she seems totally invested in helping survivors get the justice they deserve — even if that wasn't the outcome for her. Gotta applaud that.