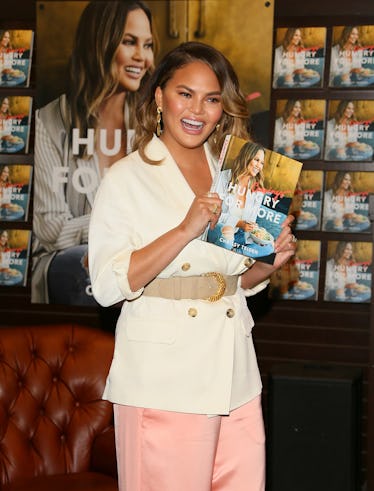 Chrissy Teigen Thought It Was Thanksgiving Already, According To These Hilarious Tweets
Jean Baptiste Lacroix/Getty Images Entertainment/Getty Images
It's always a good day when Chrissy Teigen blows up my Twitter feed. I mean, is there anything better than the model mama/television personality/best-selling author sounding off on a bunch of random things to brighten up an otherwise boring weekday? I think not. And Teigen was at it again on Oct. 18, when she asked her social media followers what was on the menu for Thanksgiving this year. Because she thought it was November. You heard me. Seriously, you guys, Chrissy Teigen's tweets about thinking it's Thanksgiving in October are funny AF, and you need to read them ASAP.
Here's how it all started: "What are we making for thanksgiving?" she tweeted. "Are we still on this turkey bullsh*t?"
You read it here first, kids. Chrissy is not here for serving turkey on Thanksgiving. Of course, this isn't even the first time Teigen has taken a stand against the bird. She went in on turkey big time in an interview with InStyle back in October 2017.
"Screw turkey. Turkey sucks," she told the publication. "Turkey is gross! I do two whole roasted chickens because chicken is so much better and you can still get a great gravy out of it. I just really feel like people feel like they're forced to eat turkey, and nobody really enjoys it. Surprise everyone. Serve them chicken, and they'll be much happier."
We get it, Chrissy. Turkey is canceled.
Meanwhile, the funniest part about the whole thing is that Teigen somehow forgot that it was still October. She remembered pretty quickly, though, and followed up her initial tweet with another one a minute later:
"Lol nevermind I truly thought it was November 18th today we can discuss in a month," she wrote.
Freaking hilarious. And it happens to the best of us, right? I mean, Teigen's got two kids under three, and she just launched her second cookbook and her Chrissy x Target kitchen and tabletop collab, so I can totally see how this could happen.
Still, if this means Teigen forgot to buy cute Halloween costumes for Luna and Miles I'm really gonna be pissed. Although, topping Luna decked out as a cute pineapple last year is not gonna be easy:
Anyway, back to the turkey. Because even though Teigen finally realized she still had a month to start menu-planning, her followers remained curious about what she planned to serve instead.
"What do you prefer over turkey?" one of them asked.
"Lamb. Ham. Chicken. Dog food. Cardboard box. Shoelace. Dead flowers. Concrete. Rubber. Wicker. Candle wax. Really anything," Teigen responded.
I just love her, don't you?
Oh, and get this: Teigen even copped to the fact that she has trouble holding in liquids, after another follower asked her if there was anything most adults can do that she cannot.
"Drink a beverage without drops coming out of my mouth after," she answered. "Pee without drops coming out of my uterus after."
BAHAHAHA she said uterus. But again, Teigen quickly realized her mistake.
"Oops I meant urethra," she wrote. "But uterus also leaks yes. My ute will never be the same."
Totally calling it that from now on.